As we navigate through 2023 and look ahead to 2024, finding the best office chair becomes increasingly crucial in our evolving work environments. Comfort, ergonomics, and durability remain at the forefront of workplace wellness, with the best office chairs of 2024 already drawing attention for their innovative Features that promise to redefine our seating experience. Our comprehensive guide delves into the finest office chairs of the year, offering meticulous reviews and valuable insights, aiding you in discovering the ideal chair for your workspace.
The Top Office Chairs Heading into 2024
Steelcase Series 1: #1 Office Chair for Future-Proof Comfort
The Steelcase Series 1 emerges as the best office chair of 2024, offering an unmatched blend of comfort, Support, and a forward-thinking ergonomic design that is both stylish and practical for any workspace. The chair Features a breathable mesh back and a Comfortable padded seat, making it ideal for long hours of work.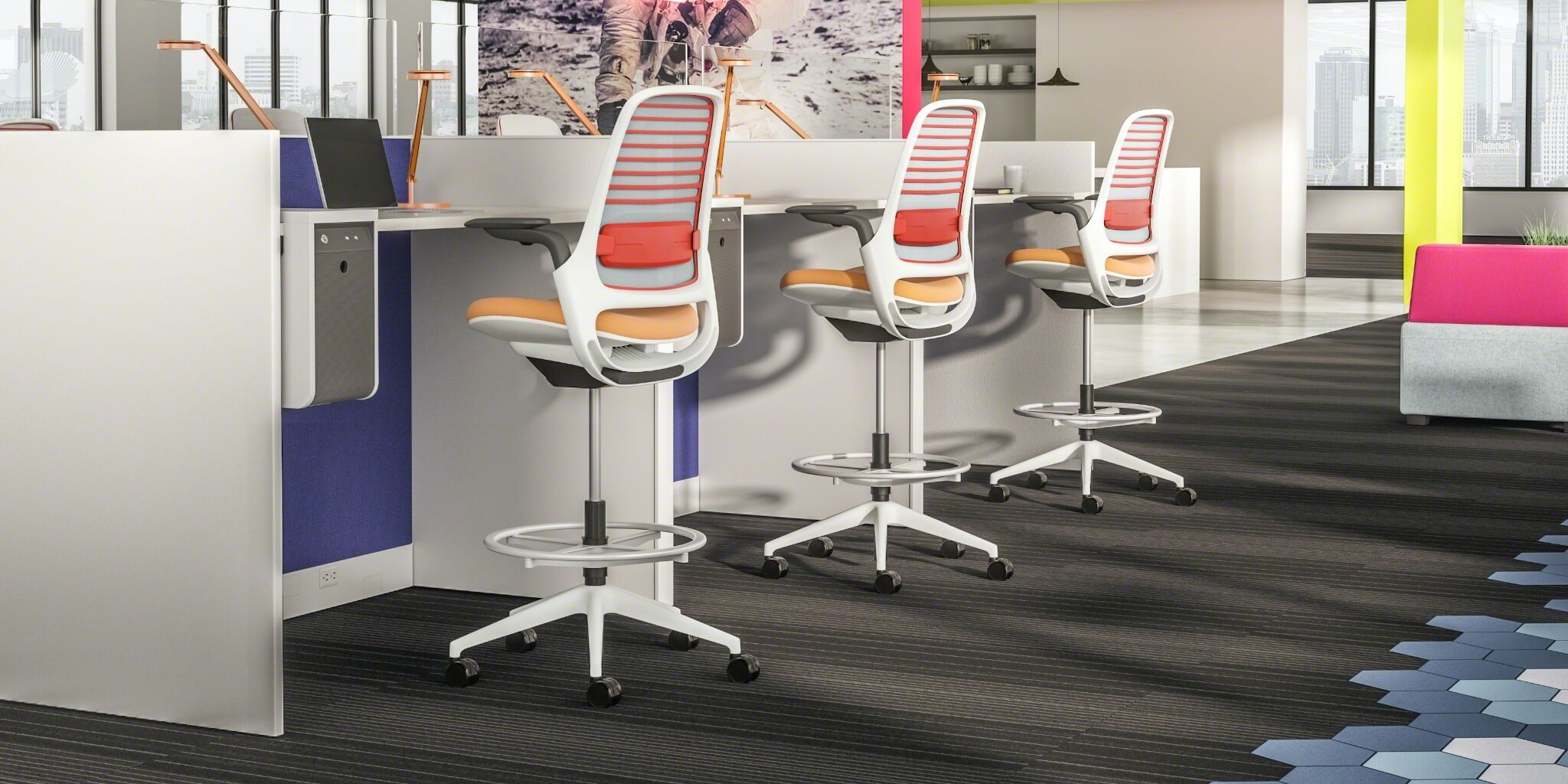 The office chair has become a hot commodity since 2020, with the rise of work-from-home culture. Among the plethora of options available, the Steelcase Series 1 office chair stands out as a perfect blend of comfort, functionality, and affordability.
While it's not the cheapest option on the market, it offers excellent value compared to its more expensive counterparts. So, what makes the Steelcase Series 1 such a standout choice? Let's delve in.
The Steelcase Series 1 Office Chair: Key Features
The Steelcase Series 1 is designed with user comfort and adaptability in mind. It offers standard adjustments like arm height and seat height, but it also goes beyond the norm with Adjustable seat depth, lumbar Support, and tilt Control. The 3D Mesh Knit backing adapts to your body shape, providing optimal Support.
The armrests are a standout feature, offering 4D movement that moves with you as you work. They can move forward and backward, side-to-side, and have a 40-degree pivot rotation. This range of motion is a boon for those who are constantly maneuvering a mouse.
The Series 1 is not just about functionality; it also scores high on aesthetics. Its soft, rounded edges and compact figure make it a stylish addition to any home office. Plus, it's available in a range of colors to suit your personal Style.
The Steelcase Series 1 Office Chair: Areas for Improvement
Despite its many positives, the Series 1 does have a few drawbacks. The backrest is a bit low, and there's no standard headrest, which could be an issue for taller users. However, an additional headrest can be purchased from Steelcase's website.
The armrests, while highly Adjustable, can be a bit too mobile and may shift under slight pressure. The plastic underneath the armrests can also be a bit sharp, causing occasional discomfort.
The Adjustable lumbar Support, while a nice addition, is not the best on the market. It can be tricky to adjust, and the plastic construction feels a bit fragile. Some users have reported breakage, although this was not an issue during our testing.
The Steelcase Series 1 Office Chair: The Final Verdict
When I first started working from home, I was hesitant about investing in an office chair. However, I soon realized that a good chair could significantly boost my Productivity and prevent future back pain. The Steelcase Series 1, while not the cheapest option, offered comparable, if not better, Support and comfort than the more expensive Herman Miller Sayl.
The Series 1's adjustability makes it feel like a custom-made chair, although taller users might want to consider adding the headrest. All in all, the Steelcase Series 1 is a solid choice for anyone looking for a Comfortable, functional, and affordable office chair.
Alera Elusion Series Mesh Multifunction Chair: Best Budget Buy
For those seeking quality without breaking the bank, the Alera Elusion Series Mesh Multifunction Chair ranks as one of the top office chairs on a budget for 2024. Despite its lower price point, this chair doesn't skimp on Features. It offers a Comfortable mesh back, Adjustable armrests, and a tilt mechanism that allows you to find your perfect seating position.
Whether you're operating from a corporate office or your home, a Comfortable desk chair is a non-negotiable part of your workspace. The Alera Elusion Series Mesh Mid-Back Chair pledges to deliver on all fronts, from lumbar Support to Adjustable armrests, seat height, and depth. We put this chair to the test in a home office setting to see if it lives up to its claims. Here's what we found.
Comfort and Design: Customizable for Optimal Comfort
A poorly designed office chair can lead to long-term discomfort and even pain. We tested the Elusion Series Mesh Mid-Back Chair for two weeks, using it six days a week for extended periods. The seat cushion provided just the right amount of Support for all-day use, and the wide, 20-inch seat accommodated users of different sizes comfortably.
The chair's breathable mesh backrest offers lumbar Support, although the tilt function could be improved for those who like to lean back. The armrests, made of soft, durable foam, are ergonomically designed and easily Adjustable.
Adjustability: Some Adjustments Require Tools
The Elusion chair offers all the basic adjustments you'd expect, including seat height, seat depth, tilt, and armrest height. However, some adjustments, like moving the backrest forward, require the use of an Allen wrench. This could be a drawback if the chair is shared among multiple users with different comfort preferences.
Price: A Great Deal When On Sale
The Elusion chair has an MSRP of $375, but it's often available for around $125 to $150 at online retailers. Considering its range of adjustments, it's a great deal at this price point.
Competition: Other Options to Consider
AmazonBasics Mid-Back Desk Office Chair: This chair is a more affordable option but lacks adjustments for armrest height and seat depth. It's suitable for occasional use but may not be the best choice for full-time work.
Langley Street Sweetwater Task Chair: If aesthetics are a priority, this chair could be a good fit. However, it only allows for seat height adjustment.
In conclusion, the Alera Elusion Series Mesh Mid-Back Chair offers a Comfortable and customizable seating solution for long hours of work. While some adjustments require tools, it's a one-time setup if the chair isn't shared among multiple users.
Specifications for the Budget-Conscious Shopper
Product Name: Elusion Mesh Mid-Back Swivel/Tilt Chair
Product Brand: Alera
Product Highlight: Elusion Mesh Mid-Back Swivel/Tilt Chair by Alera
SKU: ALEEL42B04
Price: $375.00
Color: Black
Seat Height: 18.75 in to 22.375 in
Arm Height: 6.75 in to 9.25 in
Weight Capacity: 250 lbs
Materials: Polypropylene, polyurethane, nylon, mesh
Steelcase Gesture: The Office Chair of the Future and Our Top Pick
Selected as the pinnacle of ergonomic seating, the Steelcase Gesture secures its spot as the top office chair for 2024. This premium chair not only offers extensive adjustability but also caters to the natural movements of your body, making it a smart choice for any discerning professional. The chair's unique design supports a wide range of postures, making it a great choice for those who spend long hours at their desk.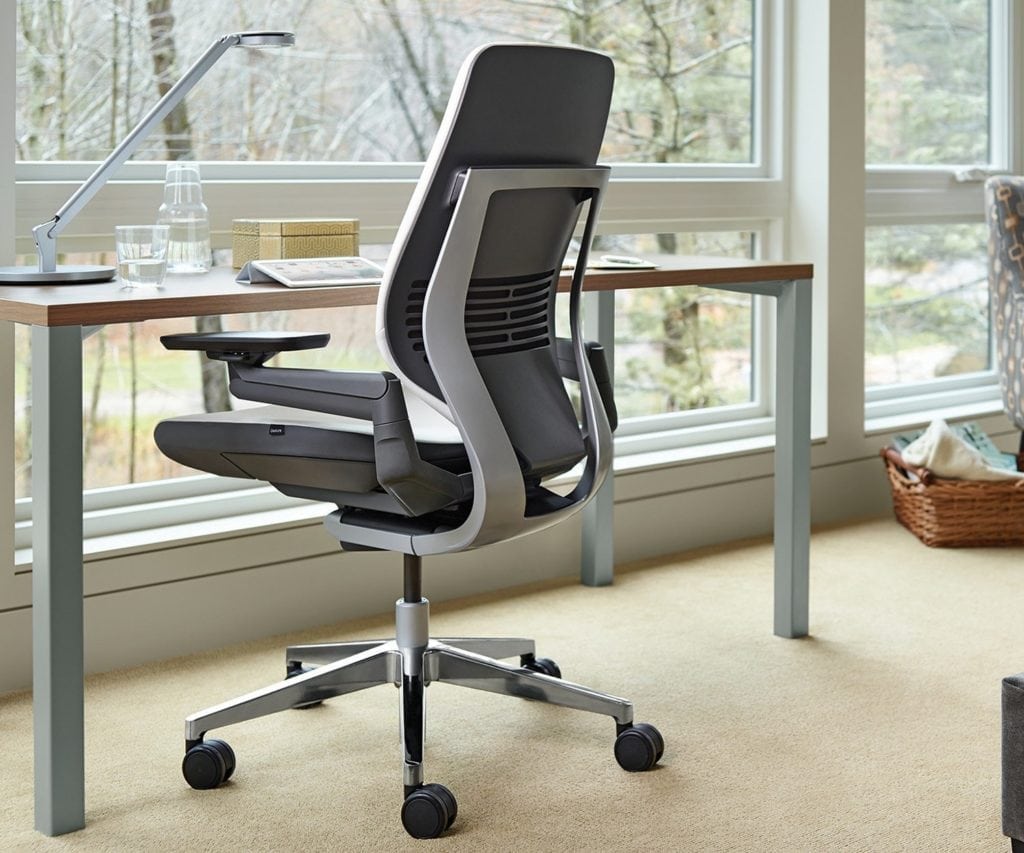 If you're in the market for an ergonomic chair that can accommodate a broad range of users right out of the box, the Steelcase Gesture is likely your best bet. Scoring an impressive 91 in our scope of users test, it outperformed its closest competitor, the Steelcase Leap chair, by seven points. However, this superior performance comes with a hefty price tag. At over $1,200, the Steelcase Gesture is one of the most expensive chairs we tested. Let's delve deeper to determine if it's worth the investment.
Pros and Cons of the Steelcase Gesture
Pros
High-end build quality
Fits a wide range of users
Most Adjustable arms tested
Intuitive seat sliding function
Good seat comfort
Excellent warranty
Ships fully assembled
Cons
High price point
No back-height adjustment
Back doesn't lock upright
Made in Mexico
Manufacturer: Steelcase
Established in 1912 as the Metal Office Furniture Company, Steelcase has a long history of innovation. Its first patent was for a metal wastebasket, a design intended to improve office safety. By 1919, it had begun to form dealer networks and offer its office furniture products across the USA. In 1954, it changed its name to Steelcase Inc., and its brand continued to grow. By 1998, Steelcase Inc. had become a publicly traded company.
The Steelcase Gesture Chair: A Closer Look
The development of the Steelcase Gesture was as unique as the chair itself, starting first with studying the human body, before the chair design itself. Steelcase wanted a product that was able to Support the user, regardless of the device they were using.
To gain a better understanding of a user's posture, they studied over 2,000 people from around the globe. Through this research, they found that new technology created nine additional postures. These new postures were not being addressed by the current seating available, so the Gesture Chair was created.
Specs
Seat Height: 16" – 20.5"
Seat Depth: 15.75" – 18.75" D
Seat Width: 19.25"
Arm Height: 7.25" – 11.5"
Arm Width: 10.25" – 22.5"
Back Height/Width: 24.0625" H / 16.25" W
Overall: 24.75" D x 27" W x 38.5" – 43.5" H
Weight Rating: 400 lbs.
Features
Seat height adjustment
Seat depth adjustment
4D arms with a massive adjustment range
Three position tilt lock
Adjustable lumbar Support (optional)
Flexible backrest that moves with you
400 lbs. weight capacity
The most basic version of the chair will cost $1,107.00. This setup will include the standard shell back, Buzz2 upholstery, Black/Black or Dark/Dark frame, no arms, matching base (frame color), carpet casters and no additional lumbar Support. The available upgrades are below. For more details on the upholstery options see the "Steelcase Gesture: An In-Depth Review for the Discerning Buyer".
Herman Miller Aeron Chair: A Timeless Contender for Best Office Chair of 2024
The Herman Miller Aeron Chair is a runner-up in our list, but it's no less impressive. This iconic chair is known for its exceptional comfort and Support. It Features a breathable mesh back and seat, along with a range of adjustments to fit your body perfectly.
Branch Verve Chair: Best Rated Office Chair as We Approach 2024
The Branch Verve Chair has been rated as the best chair in 2023. It's a high-end chair that offers a range of adjustments, a Comfortable seat, and a stylish design. It's a great choice for those who want a chair that looks as good as it feels.
FlexiSpot Pro Plus Mesh Office Chair OC14: The Flexible Choice for Top Office Chairs in 2024
The FlexiSpot Pro Plus Mesh Office Chair OC14 is the best chair for flexibility. It Features a flexible mesh back that conforms to your body, providing excellent Support and comfort. The chair also has Adjustable armrests and a tilt mechanism that allows you to find your perfect seating position.
Duramont Ergonomic Adjustable Office Chair: Leading the Pack in Overall Design for 2024's Best Office Chairs
The Duramont Ergonomic Adjustable Office Chair stands out for its overall design. It's a stylish chair that doesn't compromise on comfort or Support. The chair Features a Comfortable padded seat, a breathable mesh back, and a range of adjustments to fit your body perfectly.
Honorable Mentions
Knoll Newson Task Chair: A high-end chair with a unique design and excellent Support.
Fully Alani Chair: A budget-friendly chair that offers a range of adjustments and a Comfortable seat.
Ikea Markus Chair: A popular choice for its comfort, Support, and affordable price.
Key Considerations When Selecting the Best Office Chairs of 2024
Selecting the ultimate office chair blends science with art, especially when anticipating the top office chairs of 2024. Instead of going out and buying the first chair you see, keep a few factors in mind to help you make an informed decision.
Adjustability
There's no one-size-fits-all when it comes to office chairs. Peoplehave different heights, body weights, and body shapes, so you can't expect a chair's default settings to accommodate everyone comfortably. Adjustability is key. You want to choose an office chair that offers some degree of adjustability for things like seat height, angle, and depth.
Lumbar Support
Office chairs with Adjustable lumbar Support are one of the things standing between you and chronic back pain. Our spines have a naturally curved alignment that is best for our Health and overall posture. When we sit for long periods of time, we tend to slouch, sit too upright, or lean forward, messing up this natural alignment. That's why lumbar Support is so important. It helps promote the natural curves in our spine, ensuring that we're Comfortable without negatively affecting our posture.
Material
The material of your office chair can greatly impact your comfort and the chair's longevity. Here's a breakdown of the most common materials:
Leather
Leather has always been the high-end option for office chair materials. It exudes elegance and is known for its durability. However, it's usually not the most ergonomic choice for long work hours due to its lack of breathability.
Synthetic Leather
Synthetic leather mimics the look and feel of natural leather but is more breathable and hypoallergenic. It's a good option if you want the premium-leather look without the high price tag. However, it tends to have a shorter lifespan than natural leather.
Vinyl
Vinyl is a common choice for budget office chairs. It offers relatively good quality, is easy to clean, and doesn't cost a fortune. Vinyl chairs are especially common in factories, hospitals, and clinics because they're easy to clean.
Mesh
Mesh office chairs have gained popularity due to their excellent lumbar and back Support. They are very breathable, preventing heat retention and odor buildup. Much like vinyl chairs, they're quite easy to clean. If you want comfort and practicality, opt for a mesh chair.
Size and Weight Capacity
When choosing a new office chair, take note of how much office room you can spare. You also want to make sure it's the right size for you and that the seat is Comfortable. Some models have wider seats that give you more room to move, which is great for people who hate sitting still all day.
Budget
Everyone has a budget. The trick is to find the best office chair within yours. Office chairs can cost anywhere from $100 to a couple of thousand.
Warranty
Most budget office chairs come with a relatively small warranty; a year or two tops. The more expensive and sophisticated the chair, the longer its warranty is.
Frequently Asked Questions
What ranks as the world's best office chair heading into 2024?
There's no one-size-fits-all answer to this question, as the best chair for you depends on your body, work Style, and budget. However, some of the top contenders include the Steelcase Gesture, Herman Miller Aeron, and the Branch Verve Chair.
What time of year is best to buy office chairs?
Office furniture often goes on sale around the end of the financial year, as businesses look to use up their budgets. However, you can also find good deals during major sales events like Black Friday and Cyber Monday.
Which company makes the best office chairs?
Several companies are known for making high-quality office chairs, including Steelcase, Herman Miller, and Branch. These companies offer a range of chairs to suit different needs and budgets.
How many years should an office chair last?
A high-quality office chair should last for several years, if not longer. However, the lifespan of an office chair can vary depending on the quality of the chair, how often it's used, and how wellit's maintained.
Final Thoughts on Finding Your Ideal Office Chair for 2024 and Beyond
Choosing the right office chair is crucial for your comfort, Health, and Productivity. Whether you're looking for a budget-friendly option or a high-end chair with all the bells and whistles, there's a perfect chair out there for you. So take the time to do your research, try out different chairs, and find the one that's just right for you. Remember, a good office chair is an investment in your Health and well-being, so it's worth spending a bit more to get a chair that you'll love.
In the world of office chairs, the options are endless. From the luxurious feel of leather to the practicality of mesh, from the adjustability of high-end models to the affordability of budget options, there's a chair for every preference and budget. As we move into 2023, the focus is on comfort, Support, and ergonomics, ensuring that you can work in the best possible environment. So whether you're working from home or in a traditional office setting, make sure you're seated for success with the best office chair for you.