Hello everyone! This is Union Chair. Today, we're going to talk about something that's often overlooked but is crucial for your Productivity and Health: your office chair.
Understanding the Importance of a Comfortable Office Chair
For those of us who spend substantial time at our desks, the importance of a Comfortable office chair cannot be overstated. It's not just about easing the strain of long hours of work; it's about why a good office chair is important for both Health and Productivity. The right chair does more than just add comfort; it's a pivotal part of your overall office environment, impacting the numerous hours you dedicate to your desk each year.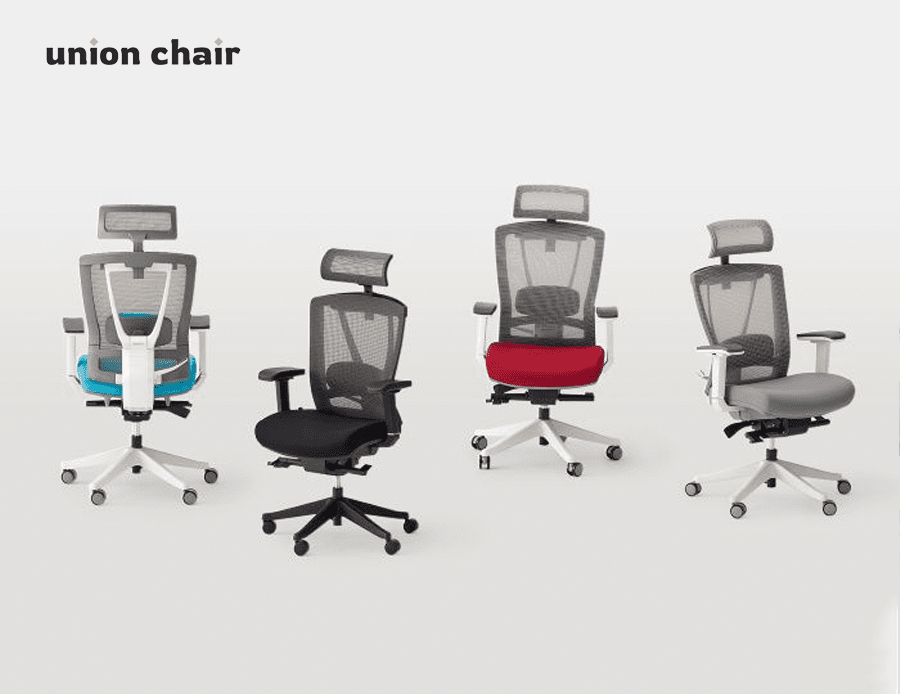 The Vital Role of Ergonomics in Office Comfort and Health
Ergonomics, the science of creating workspaces and tools that fit the human body, plays a pivotal role in your office setup. When considering how important a good chair is, remember that ergonomic chairs are key to preventing common workplace ailments. Contrary to popular belief, ergonomic solutions need not be prohibitively expensive.
Choosing a Comfortable office chair with an ergonomic design is crucial to creating a workspace that supports your body's needs. A lack of ergonomic Support in your office can lead to a range of discomforts, such as:
Lower, mid, and upper back pain
Neck and shoulder discomfort
Wrist and hand strain
Frequent headaches and eyestrain
Persistently using non-ergonomic furniture can lead to musculoskeletal issues. If you're experiencing any of these discomforts during or after your time at your desk, it's a clear indicator that your office chair needs an ergonomic upgrade.
Advantages of an Ergonomic Workspace: Comfort and Productivity
The benefits of integrating ergonomic principles into your workspace, especially through a Comfortable office chair with adjustable arms, extend beyond mere comfort. They include:
A significant reduction in work-related injuries
Decreased absenteeism due to fewer missed workdays
Enhanced employee morale and well-being
Alleviation of pain, particularly in the back and neck
A noticeable boost in Productivity
Regardless of your role—be it employee, entrepreneur, or business owner—the advantages of a workspace designed for comfort and efficiency are manifold. Emphasizing the importance of good office ergonomics ensures that your days off are spent enjoying leisure activities, not recuperating from preventable injuries.
How to Choose a Comfortable Office Chair: Elevating Your Workplace Ergonomics
Are you contemplating how to enhance your workplace ergonomics? Starting with a high-quality ergonomic office chair is a step in the right direction. This decision not only addresses the question, 'How important is a good office chair?', but also sets the foundation for a healthier, more productive workspace.
Identifying the Most Comfortable Office Chair for Long Hours
Maintaining a healthy posture is crucial, particularly during prolonged periods of sitting at work. While it's normal to occasionally slouch, understanding why a good office chair is important can make a substantial difference. The ideal chair supports you even when you're deeply engrossed in work, helping to maintain proper posture effortlessly.
Selecting a Comfortable office chair becomes essential for those long working hours. Look for a chair with an ergonomic design that naturally complements your body's posture, providing Support and comfort even during the most demanding projects.
So, we keep mentioning ergonomics and comfort, but what does it all mean? Here's what you're looking for in your office chair:
Essential Features of a Comfortable Chair: Ergonomics Explained
When considering how to choose a Comfortable office chair, focus on these key ergonomic Features:
A stable and durable base
Adjustable armrests for customized Support
A backrest that aligns with your spine's natural curvature
A seat that adjusts to your body's proportions
Additional Features for enhanced comfort
Understanding these elements can significantly impact your daily comfort and Health, especially when selecting a chair suitable for long hours of work.
The Significance of a Chair's Base for Stability and Durability
Underestimating the importance of a chair's base can lead to stability issues. A Comfortable office chair with a robust base, preferably with five or more casters, ensures both safety and mobility. This design minimizes the risk of tipping, enhancing overall comfort and usability.
When selecting a chair, pay attention to the quality of the casters. High-quality hybrid casters, effective on various surfaces like wood and carpet, add to the chair's versatility. Opt for chairs with an aluminum base for increased sturdiness and longevity, ensuring a reliable and durable seating option for your office.
Choosing the Right Armrests for Optimal Comfort and Ergonomics
Adjustable armrests are essential in a Comfortable office chair with Adjustable arms, catering to the unique needs of each individual. They should allow your elbows to rest comfortably at a 90-degree angle, aligning your arms with your keyboard, which is critical for maintaining proper posture and reducing strain.
Look for armrests with rounded edges to minimize pressure and width-Adjustable options for closer arm alignment with your body. Advanced Features like 3D armrests, which adjust in height, width, and depth, offer a more personalized seating experience, enhancing comfort during long working hours.
The Importance of a Supportive Backrest in an Office Chair
The backrest of an office chair plays a crucial role in maintaining spinal Health, particularly for those spending long hours at a desk. A backrest that mimics the natural curvature of your spine is vital. Adjustable lumbar Support is a key feature, allowing customization to the unique contours of your lower back, thereby reducing strain.
Effective lower back Support is indispensable in an ergonomic chair, as it carries the bulk of your upper body weight. An Adjustable backrest, capable of reclining independently from the seat, provides flexibility and comfort, reducing the risk of back pain and other related issues.
Choosing the Right Seat for Your Office Chair: Comfort and Adjustability
The seat of an office chair is more than just a place to sit; it's a critical component for maintaining proper posture and comfort during long hours. An ideal chair offers Adjustable seat height, ensuring your thighs are parallel to the floor with your feet comfortably resting flat. The ability to swivel, tilt forward, and backward adds to the chair's ergonomic benefits.
A chair that allows for varied postures is crucial for those seeking the most Comfortable office chair for long hours. This feature helps in redistributing pressure and avoiding the discomfort of static seating positions.
Furthermore, a well-designed seat pan, contoured for even weight distribution and with a waterfall edge, prevents undue pressure on your legs. Adjustable seat depth enhances this comfort, ensuring a gap between the seat and your calves for optimal posture.
Additional Features for Enhanced Comfort in Office Chairs
Additional Features in office chairs, like headrests and footrests, significantly contribute to comfort and ergonomic Support. An Adjustable headrest, often found in High-back and executive chairs, not only enhances comfort when reclining but also plays a crucial role in reducing spinal strain by supporting your head and neck.
A footrest is another beneficial feature, especially for individuals shorter than 5'2″. It provides an additional Support point, helping to maintain a Comfortable position and better posture when leaning back or shifting positions in the chair.
Assembling the Ideal Ergonomic Office Chair
In summary, the key to a Comfortable and ergonomic office chair lies in its adjustability and Support Features. A sturdy base with multiple casters, height-Adjustable arms, a supportive backrest that aligns with your spine's natural curve, and an Adjustable seat are non-negotiable for those seeking comfort during long work hours.
When considering the cumulative time spent in an office chair, even five hours a day amounts to thousands of hours a year. Therefore, investing in a chair that offers comprehensive adjustability and Support is essential, even if you complement it with a standing desk for occasional breaks from sitting.
We recommend checking your current office chair against this list or using our ergonomic assessment at the bottom of the Ergonomics 101 page to evaluate your entire workspace.
Finding the Ideal Chair for Extended Hours: A Personalized Approach
When searching for the most Comfortable office chair for long hours, it's essential to remember that comfort is a personal experience, as everyone's body is unique. Avoid the temptation of quick, inexpensive purchases. Instead, dedicate time to finding a chair that meets your specific ergonomic needs.
This principle holds true whether you're outfitting a home office or selecting a multifunctional chair for gaming and professional use. Investing in a high-quality chair tailored to your body and work habits is a wise decision for those spending considerable time seated.
To assist you in your search, we've compiled a selection of our top chair recommendations, each with distinct Features to cater to various needs and preferences.
Continue Exploring to Discover Your Perfect Ergonomic Office Chair
As you delve deeper into the world of ergonomic office chairs, keep in mind your unique requirements and preferences. The journey to finding the perfect chair is not just about comfort; it's about enhancing your overall work experience and wellbeing.
Ergonomic Chair Pro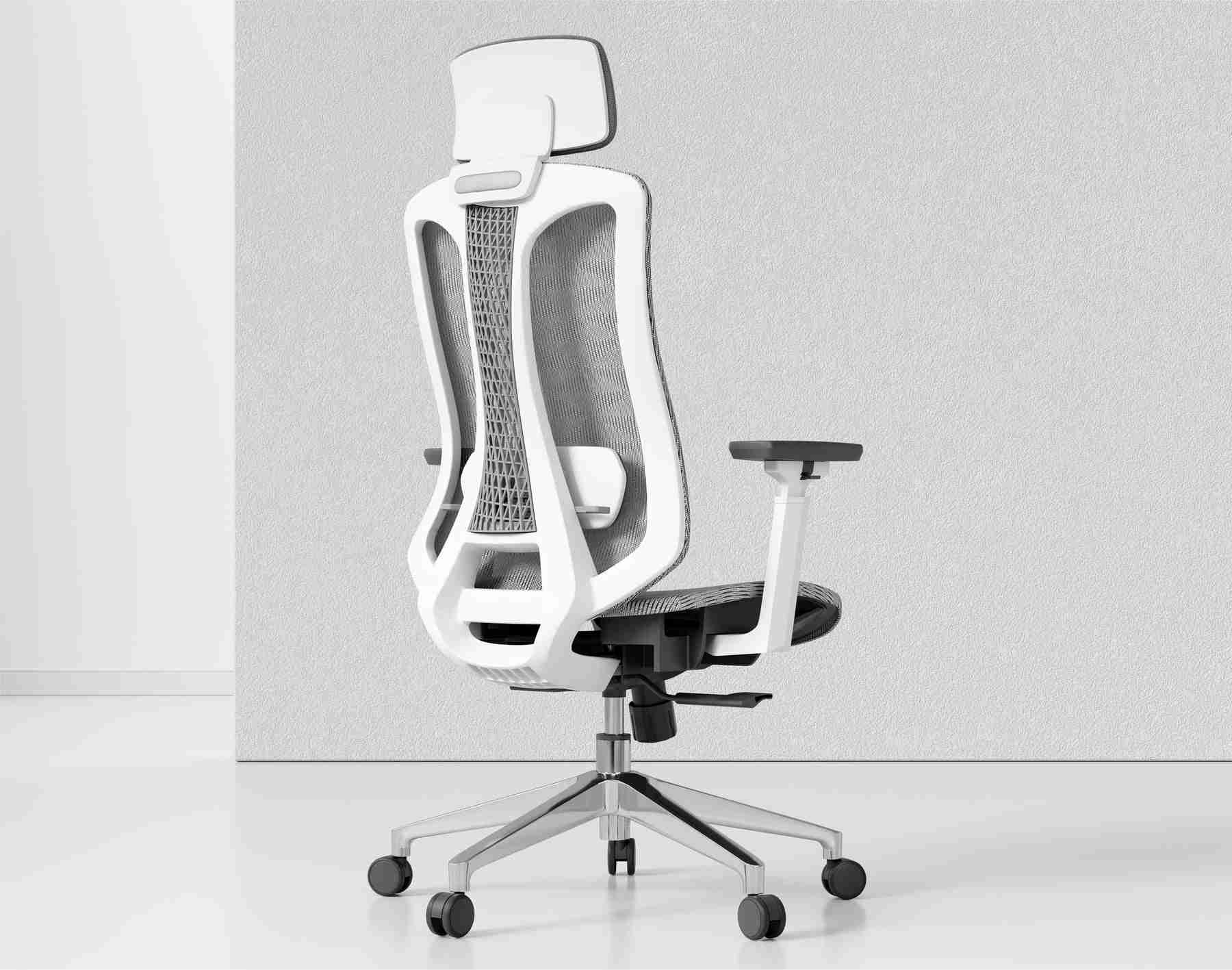 The Logicfox Ergonomic Chair delivers exceptional comfort and seven points of adjustment. It offers reliable ergonomic Support ideal for people of all shapes and sizes, with the following perks:
Adjustable 3D armrests, seat height, seat depth, tilt, and tilt tension with removable lumbar Support
Supportive double-layered breathable mesh back to allow airflow
High-density foam seat cushion
Firm lower back Support
Contoured upper-back Support
Durable five-caster base with premium hybrid casters
Waterfall seat to reduce pressure behind knees
Suitable for people who are 5'2″ to 6'2″ and up to 300 pounds
Rated for eight-plus hours of Comfortable work
The Ergonomic Chair is an excellent choice for a quality mesh office chair at an affordable price point. With a comfy foam seat cushion, a quality tilt mechanism, and firm lower back Support, your body will thank you. It's also been rated one of (if not the) best ergonomic chairs for WFH by Wired, CNN, Gear Patrol, New York Magazine, and more.
Task Chair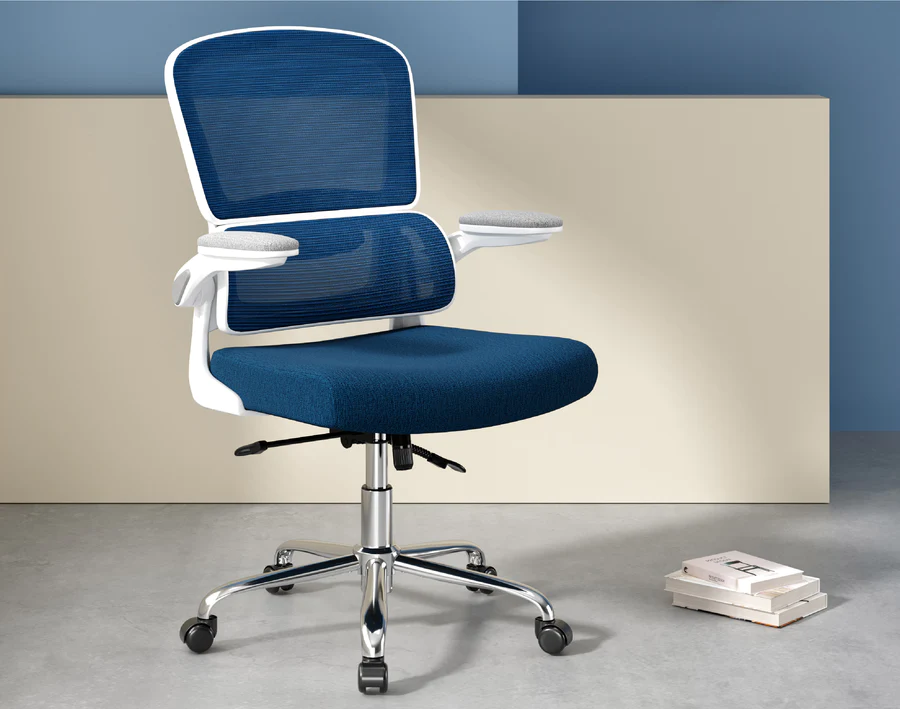 The Task Chair Features sleek contours and an intuitive design. It delivers premium ergonomics with five points of adjustment, a low price point, and perks such as:
Adjustable seat height, tilt, tilt tension, armrest height, and lumbar height
High back with breathable mesh nylon to offer Support
Adjustable lumbar pad with cushioned Support
Four-stop tilt lock
A high-density foam seat cushion designed to distribute weight evenly
Sturdy five-caster base
Waterfall seat to reduce pressure behind knees
Suitable for people who are 5'4″ to 6'3″ and up to 275 pounds
Rated for eight-plus hours of Comfortable work
The Task Chair is excellent if you value price and comfort slightly over color and customizations (since it only comes in all-black). With one of the most Comfortable lumbar rests,it's also ideal for folks who are making the transition to an ergonomic chair from their dining room chair.
Management Office Chair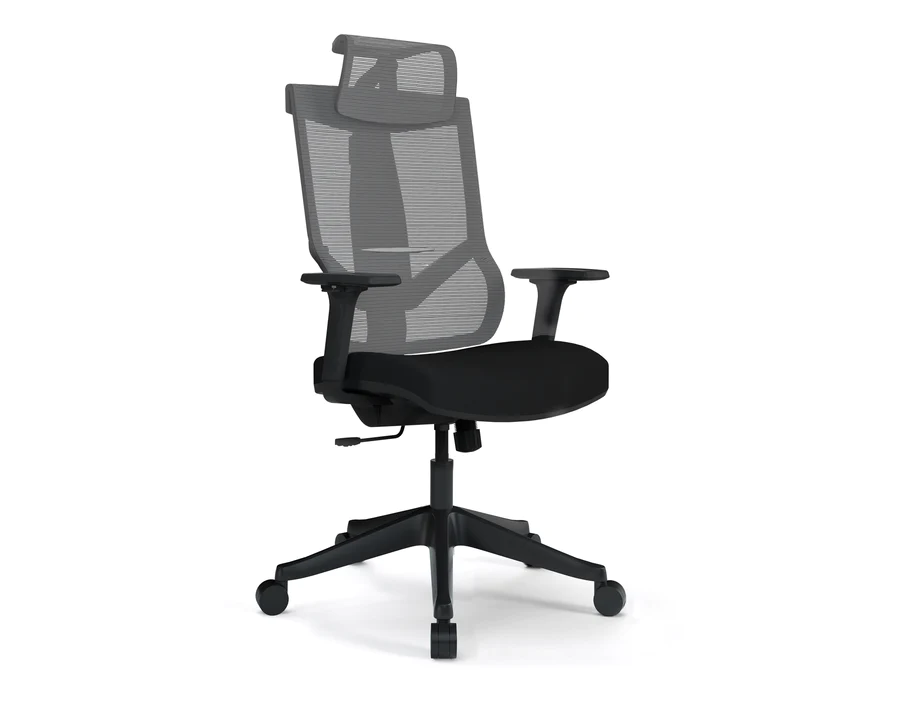 The Management Chair is among the best office chairs for comfort, Style, and durability. This Management Office Chair Features a distinctive design, nine points of adjustment, and the following perks:
Adjustable seat height, seat pan depth, tilt, tilt tension, 4D armrests, and lumbar Support
Breathable mesh back for comfort
Waterfall seat to reduce pressure behind knees
High-density foam seat cushion
Strong five-caster base
Medium lumbar Support with a high back to promote good posture
Suitable for people who are 5'6″ to 6'4″ and up to 300 pounds
Rated for eight-plus hours of Comfortable work
The Management Office Chair is ideal if you're looking for an executive office chair without the executive price tag. Enjoy comfort, design, and colors that suit both the home office and the corner office.
Ready to Pick a Comfy Office Chair?
By now, you should have a strong sense of what you're looking for and what's most important, considering your own unique body type and working schedule.
But if you're still not sure which chair is right for you, we make it easy: just take our quiz! We'll help you find the most Comfortable office chair for long hours at your desk, no matter how your work schedule looks.
For those who'd like to refresh more than just their office chair, check out our full catalog for more thoughtful, ergonomic designs. Or use our Design My Office feature to simplify the process.