In today's modern era, with the rise of remote work, it is crucial to have a Comfortable and functional workspace. Whether you work from home full-time or occasionally, or even use your desk for personal activities, having the best home office desk is vital for improving Productivity and ensuring comfort. We are here to help you find the perfect home office desk that offers ample adjustment features and sufficient space to cater to your needs. Let us assist you in selecting an ideal home office desk for ultimate comfort and productivity.
The Importance of Your Desk
Did you know that a poorly designed workstation can increase your risk of musculoskeletal disorders (MSDs), back pain, and neck pain? Ergonomically designed office furniture can mitigate these issues, enhancing comfort and Productivity in your workspace.
By choosing the right type of office chair and the best home office desk, you can set up your space for optimal ergonomics. Here are some of the benefits of an ergonomic setup:
Increased Productivity
Decreased healthcare costs
Improved posture
Reduced eye strain
To fully reap the benefits of your ergonomic setup, it's crucial to maintain proper posture. This involves adjusting your seat and desk height to keep your elbows and knees at approximately 90 degrees, with your feet flat on the floor. Additionally, your screen should be at eye level, and your back should be straight with a natural curve.
Determining the Ideal Desk Height
The suitable desk height will vary depending on your height and body structure. Standard desks without height adjustment typically range between 28 and 30 inches, but this may not be ideal for everyone. Here's how to find your optimal desk height:
While Sitting:
Adjust your office chair to a height that keeps your knees bent at 90 degrees with your feet flat on the floor.
Adjust the height of the armrests on your chair to allow your arms to hang naturally with your elbows bent at 90 degrees while resting on them.
Measure the height from the floor to your hands while they're in this 90-degree position. This is the correct desk height for you while sitting.
While Standing:
Put on the shoes you'll wear while working, if any, and place your standing mat in front of the desk.
Stand up straight on the mat wearing your shoes, allow your arms to hang naturally, and bend at the elbows so that they are at 90-degree angles or slightly over.
Measure the height from the floor to your hands. This is the correct desk height for you while standing.
After finding the correct height, test it out with your keyboard to see if it's Comfortable. You might need to slightly adjust your desk and armrests based on how the position feels.
Choosing the Best Home Office Desk
The best home office desk should allow you to sit and stand comfortably while using your computer and workspace. It should also offer the functionality you need for convenient, supported work. This might mean storage space for supplies, cable management to keep wires out of the way, or a compact size to fit in a small space.
Consider what you liked and didn't like with desks you've used in the past and what you'll need to fit your space now. For example, if your computer desk is in the corner of your living room, an L-shaped corner desk to make the most of the space could be ideal. Or, if you like to work with multiple monitors and need enough space to spread out with paperwork, you might need a larger work surface area.
Standing Desks: The Versatile Solution
Ergonomic workplaces often feature sit-stand desks that allow you to switch between sitting and standing positions. Standing desks can bring even more benefits to your work area, and they might be the single most versatile piece of furniture you can add to your office.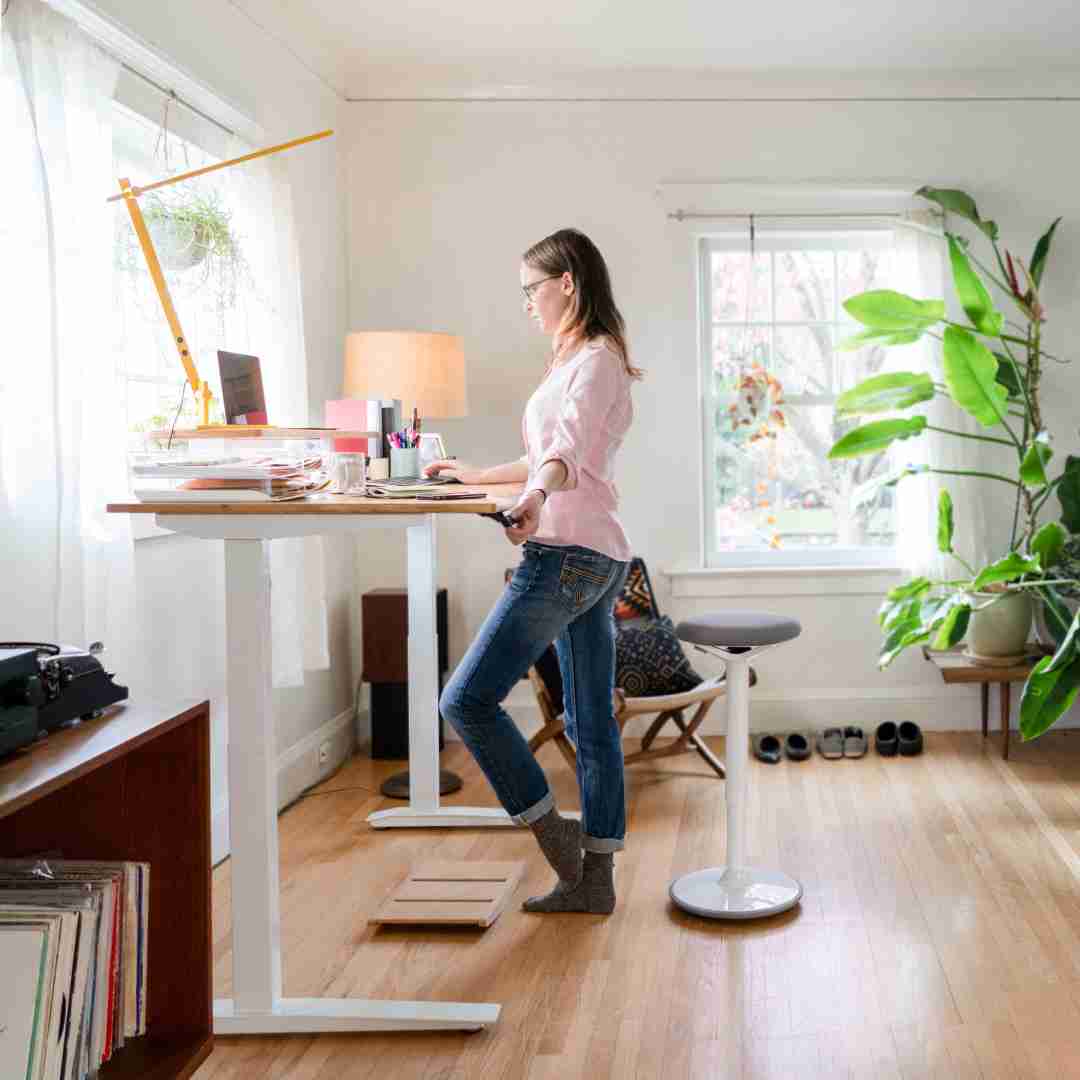 Here are some of the many perks of swapping sitting time for standing time:
Better circulation
Increased energy
Improved Productivity and mood
Enhanced heart Health
Decreased risk for cancer, cardiovascular disease, and early mortality
Increased movement
Reduced back and neck pain
You don't have to stand for your entire workday to reap these benefits. You can break up periods of sitting every 20 to 30 minutes with 10 to 20 minutes of standing, or as much as is Comfortable for you. A standing mat to cushion the floor for your joints and a monitor arm to keep your screen at eye level will make it more Comfortable.
The best standing desks are also height-Adjustable with an electric motor, which means that you can easily adjust them for people of any height. Our Adjustable standing desk, for example, can save your perfect sitting and standing heights as preset options ranging from 25 inches to 52 inches.
Sitting Desks: A Fixed Option
If a standing desk doesn't appeal to you, sitting desks with fixed heights are always an option. Check your ideal sitting desk height and compare it with the height of the desk you're considering. It could be a great fit if it matches your perfect desk height or is close to what you need. Our office desk and L-shaped desk are 30 inches tall.
Sitting desks could work well if you need a writing desk for occasional use, work short hours, or don't plan to work from home often. On the other hand, if you work long hours regularly, an Adjustable height desk with sit-stand functionality might be better.
Tips for Selecting the Best Home Office Desk
Regardless of whether you choose a sit-stand desk or a sitting desk with a fixed height, these Tips will help you find the best option:
Choose quality: You'll spend a lot of time working at your desk over the next several years. Don't buy the cheapest particle board desk on Amazon. You deserve a high-quality desk with a solid wood or MDF Top and a steel frame. Look for brands and retailers that offer a warranty, too, so you're protected for years to come.
Look for features: Features can make your desk more useful. For example, our standing desk has an Adjustable height, a brushed grommet for cable routing, optional in-desk power, and a metal frame. Other features you might want include reversible or space-saving design and storage compartments.
Add accessories: Accessories will help you get the most out of your office. You might want to add a filing cabinet, monitor arm, desk lamp, hutch, credenza, bookshelves, or cubbies. These will help you add storage space and ensure you have plenty of room to work the way you want every time.
Shop for Style: Upgrading your office is a perfect time to give your space character and Style. Try a desk with a sleek, modern look and metal legs if you want something that goes with almost everything — from mid-century modern to industrial. The best desk is Comfortable, ergonomic, and suited to your tastes and work Style.
Measure your office: Before buying a desk, measure your available space and make sure the desk you want will fit. You might need a small desk to fit in a shared space, or you might have room for an executive desk with an attached credenza.
Don't forget the chair: You'll want an ergonomically designed office chair with your new desk. Our chairs offer multiple points of adjustment and come in a range of styles to suit every office. We also provide warranties to protect your purchase for years to come.
Ready to Find the Best Home Office Desk?
Looking for the ideal home office desk that perfectly suits your working Style and allows for maximum Productivity? Discover our wide range of office desks designed to cater to your unique needs. Whether you require Adjustable heights, specific features, or a complete ergonomic makeover, we have got you covered. Explore our Design My Office feature for personalized recommendations on creating an ergonomic workspace. Upgrade your workspace with our quality furniture selection today.