In the hustle and bustle of today's work environment, the ergonomic chair stands tall as a guardian of our well-being and productivity. It not only provides relief from back pain but also safeguards us against potential spine problems. In this comprehensive guide, we take a deep dive into the realm of ergonomic chairs, empowering you to make an informed decision that harmonizes comfort with optimal Health.
Understanding Ergonomics
Ergonomics defined is the study of people's efficiency in their working environment. When it comes to office chairs, ergonomics plays a pivotal role in ensuring that the chair you sit on for hours is designed to prevent discomfort and Health issues related to the spine. Let's unravel the nuances of ergonomics and its vital role in selecting the perfect office chair.
Features of a Good Ergonomic Chair
In this section, we delve deep into the essential features that define a good ergonomic chair. We aim to provide you with comprehensive and detailed insights, helping you make an informed choice. Let's explore each feature one by one, emphasizing the importance of each in ensuring comfort and promoting spine Health.
Seat Height
An Adjustable seat height is more than a luxury; it is a necessity in the modern workspace. The ideal height range for an ergonomic chair is between 16 to 21 inches off the ground. This range accommodates a wide variety of individuals, allowing for a Comfortable seating position where the feet can rest flat on the ground, promoting proper posture.
In real-life scenarios, an incorrect seat height has been observed to lead to chronic back and neck pains. It is, therefore, essential to opt for chairs with easily Adjustable height settings.
Actionable Advice:
Measure your desk height before choosing a chair to ensure compatibility.
Test the chair to ensure your feet rest flat on the ground and your arms are at desk height when seated.
Seat Width and Depth
A standard ergonomic chair should offer a seat width and depth ranging between 17-20 inches, providing substantial space for Comfortable seating. The depth should be sufficient to allow you to sit with your back firmly against the backrest while maintaining a gap of 2 to 4 inches between the back of your knees and the seat, a crucial aspect in preventing back pain and promoting good posture.
Actionable Advice:
Check the seat dimensions before purchase.
Sit and test the chair to ensure it offers the right depth and width for your body type.
Lumbar Support
The lumbar region of the spine, characterized by an inward curve, necessitates substantial Support to prevent slouching and the flattening of the natural curve. An ergonomic chair should offer Adjustable lumbar Support, both in height and depth, to maintain the inward curve of the lower back, thereby averting lower spine strain.
Actionable Advice:
Look for chairs with built-in lumbar Support adjustments.
Test different settings to find the most Comfortable position for your lower back.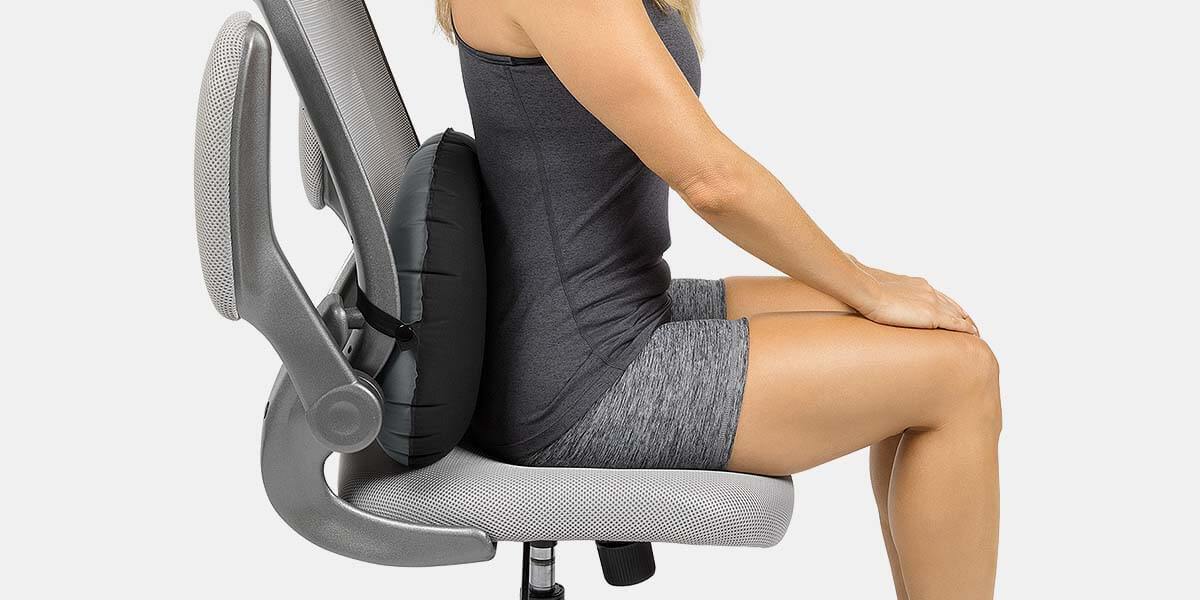 Backrest
The backrest of an ergonomic chair should span a width between 12 to 19 inches, Adjustable in both height and angle to Support the natural curve of the spine, with a special focus on lumbar region Support. This feature ensures that you can work for extended periods without straining your back.
Actionable Advice:
Ensure the backrest supports the entire back and not just a portion.
Adjust the backrest to find the most Comfortable angle for working.
Seat Material
The seat material should offer sufficient padding to ensure comfort during long working hours. A breathable cloth fabric is generally preferred over a harder surface, providing a Comfortable and cool seating solution, especially in warmer climates.
Actionable Advice:
Choose a chair with breathable fabric to prevent sweating.
Ensure sufficient padding to avoid discomfort during long working hours.
Armrests
Adjustable armrests facilitate a Comfortable position for your arms and relaxed shoulders, preventing the strain that comes from hours of typing. The correct adjustment ensures that your forearms are not on the armrest while typing, promoting a relaxed and healthy posture.
Actionable Advice:
Adjust the armrests to a level where your shoulders are relaxed.
Ensure your forearms are not resting on the armrests while typing to prevent strain.
Swivel
A swivel feature in a chair facilitates easy rotation, allowing you to reach different areas of your desk without straining, enhancing efficiency, and preventing physical strain over time.
Actionable Advice:
Choose a chair with a smooth swivel feature for easy movement.
Test the swivel feature to ensure it allows for easy access to all areas of your desk without straining.
Alternatives to Traditional Office Chairs
In the evolving landscape of office ergonomics, it is essential to explore alternatives to traditional office chairs that are making a significant impact. While traditional chairs offer numerous benefits, there has been a surge in the adoption of alternative ergonomic solutions that foster movement and facilitate a change in position, promoting overall Health. Let's delve deeper into these alternatives, providing you with a comprehensive understanding to aid in making an informed choice.
Standing Desks
Standing desks have emerged as a popular alternative, encouraging movement and alleviating the issues associated with prolonged sitting. These desks allow you to work while standing, promoting better posture and reducing the risk of weight gain and obesity.
Actionable Advice:
Invest in an Adjustable standing desk that allows you to alternate between sitting and standing.
Ensure to have a mat to stand on to reduce the pressure on your legs and back.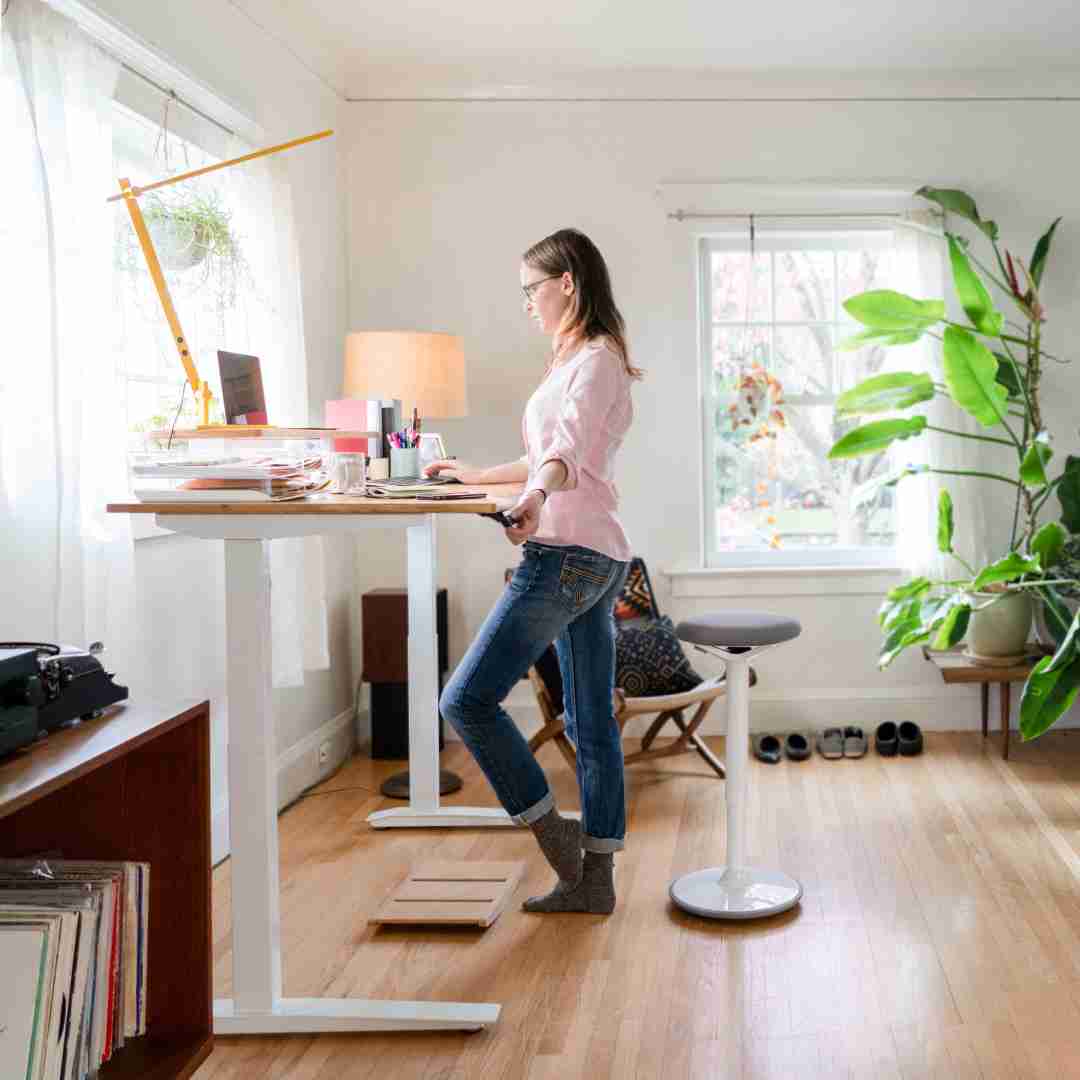 Kneeling Chairs
Kneeling chairs are designed to reduce lower back strain by distributing the body's weight more evenly. These chairs encourage a more open angle between the upper and lower body, promoting a more upright posture.
Actionable Advice:
Start with short durations to get accustomed to the kneeling position.
Ensure to choose a chair with adequate cushioning to avoid discomfort.
Exercise Ball Chairs
An innovative solution, exercise ball chairs encourage dynamic sitting, engaging your core muscles and promoting better posture. These chairs can be a fun addition to your workspace, adding an element of fitness to your work routine.
Actionable Advice:
Choose a ball of the right size to maintain a Comfortable and ergonomic position while working.
Incorporate short exercise routines during breaks to make the most of the exercise ball chair.
Expert Advice
In the pursuit of the perfect ergonomic setup, expert advice can be a beacon of light, guiding you to make choices that are aligned with your individual needs. Dr. Rodney K. Lefler, a licensed chiropractor with years of experience in the field, emphasizes the importance of individualized ergonomic solutions. Leveraging his expertise, we delve into the nuances of selecting the right ergonomic solutions.
Personalized Ergonomic Solutions
Dr. Lefler advocates for a personalized approach to ergonomics, where solutions are tailored to meet individual needs, promoting long-term spine Health and comfort. It is essential to understand that what works for one individual may not work for another.
Actionable Advice:
Consult with a chiropractor or an ergonomics expert to understand your unique needs.
Invest in ergonomic furniture that offers adjustability to cater to your specific requirements.
Ergonomic Assessments
An ergonomic assessment involves a detailed analysis of your workspace to identify areas that can be optimized to promote better posture and reduce strain. Dr. Lefler recommends regular ergonomic assessments to ensure a workspace that fosters Health and Productivity.
Actionable Advice:
Schedule regular ergonomic assessments to identify and rectify potential issues.
Implement the recommendations from the assessments to create a workspace that promotes Health and well-being.
Conclusion
Choosing the right ergonomic chair is a decision that goes beyond comfort; it is a choice for better Health and Productivity. As we have explored, the perfect chair is a symphony of the right features working in harmony. We encourage you to choose wisely, giving priority to your spine Health in your selection.
Additional Resources
For further insights and Tips on maintaining a healthy spine, explore the following resources: