In today's fast-paced environment, a considerable portion of our time is often spent at a desk, making the choice of a suitable chair critically important. Ergonomic chairs have surged in popularity due to their comfort and Support, contributing to better posture and decreased risk of musculoskeletal issues. Among these, the Branch Daily Chair stands out. This article will thoroughly explore ergonomic chairs and offer an insightful Branch Daily Chair review, addressing queries like "is Branch furniture good" and comparing it to other ergonomic options such as the Branch task chair.
What is an Ergonomic Chair?
An ergonomic chair is a chair designed with the human body in mind. It's built to provide maximum comfort and Support to the user, promoting good posture and reducing the risk of back pain and other musculoskeletal disorders.
Ergonomic chairs come with several Adjustable features such as seat height and depth, backrest tilt, and armrest position. These features allow the chair to be customized to fit the user's body, ensuring that they maintain a healthy posture while sitting.
The importance of ergonomics in the workplace is something that cannot be overstated. A well-designed ergonomic chair can significantly reduce the risk of back pain, one of the most common work-related ailments. By promoting good posture and providing necessary Support, ergonomic chairs can help improve Productivity and overall well-being in the workplace.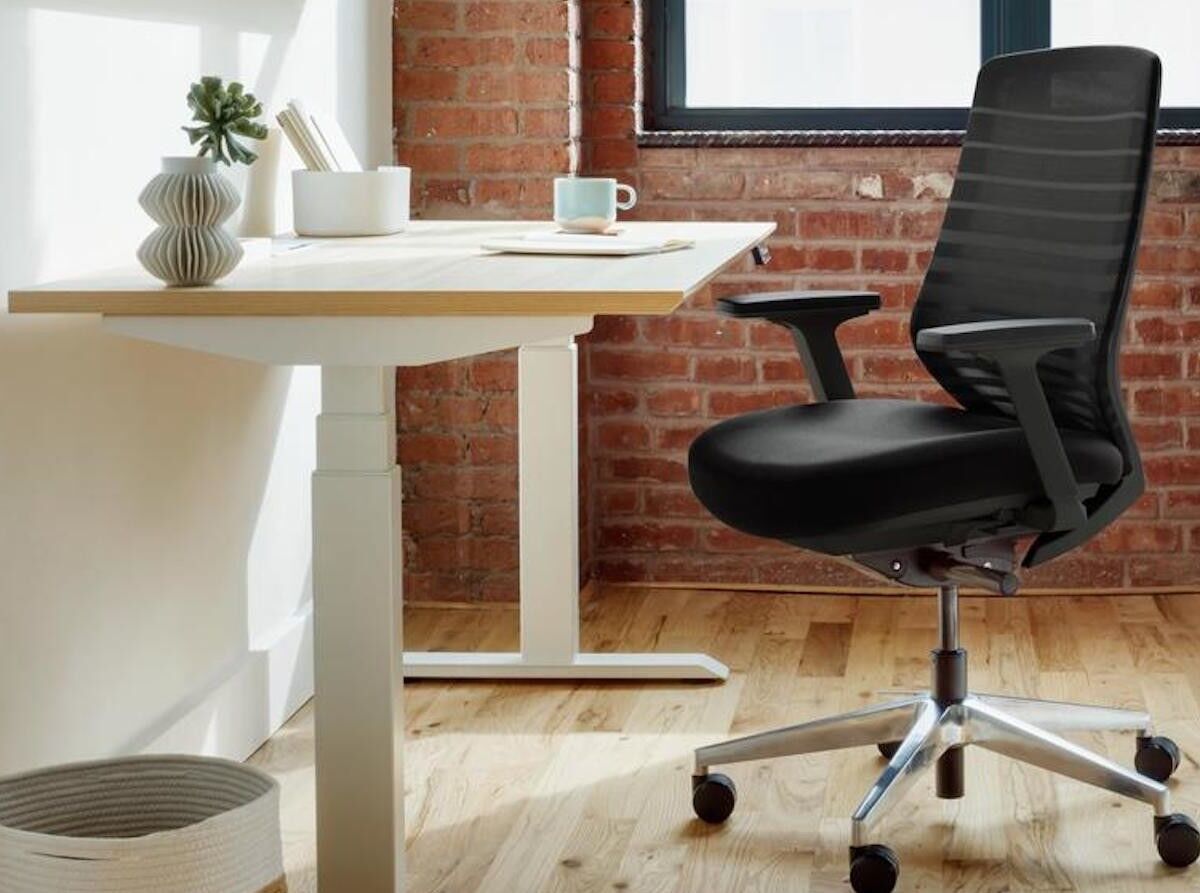 The Branch Daily Chair
The Branch Daily Chair has garnered attention as a leading choice in ergonomic chairs. This chair is not only designed with user ergonomics in mind but also emphasizes sustainability and modern Style. It provides an exceptional balance of comfort and practicality, making it a go-to for those seeking quality in branch furniture.
Features and Benefits
Ergonomic Design: The Branch Daily Chair is designed to provide optimal Support to the user. It features light lumbar Support and a medium-firm seat cushion that allows for a slight sink-in feeling. The nylon-mesh back promotes better posture by encouraging upright sitting.
Sustainability: Made with 70% recycled materials, the Branch Daily Chair aligns with the growing trend towards sustainability in office furniture.
Style: With its sleek and modern design, the Branch Daily Chair is not just functional but also aesthetically pleasing. It can easily fit into any decor and does not look utilitarian, unlike many other office chairs.
Durability: The Branch Daily Chair is built to last. It can handle up to 225 pounds and users have reported that it feels sturdy and Comfortable even after months of use.
Easy Assembly: The chair comes with an easy-to-understand assembly guide and can be put together in under an hour.
The Branch Daily Chair has received positive reviews from users, many of whom have reported improvements in their posture and a reduction in back pain. Its blend of comfort, Support, and Style makes it a worthy contender in the world of ergonomic chairs.
Branch Daily Chair vs Other Ergonomic Chairs
When it comes to choosing the right ergonomic chair, it's essential to consider several factors. These include price, features, durability, aesthetics, and user reviews. Let's see how the Branch Daily Chair stacks up against other ergonomic chairs in the market.
Price
Price is a crucial consideration when selecting an ergonomic chair. While evaluating options like the Branch Daily Chair, it's important to weigh its cost against its long-term benefits, especially when compared to other ergonomic chairs in the market. When budgeting for an office chair, you should consider how often you'll be using it, and whether you have plans to upgrade later on or if you're looking for your "forever chair." In addition, consider delivery fees and the cost of setting up the chair. For some cheaper options like Ikea, you may be faced with high delivery costs, a long wait time (for delivery, but also any customer service questions), and confusing self-assembly. More premium options are likely to include free, quick shipping, and long-term warranties that will save you money down the line.
If you are expecting not to use your chair too frequently or plan on buying a nicer one in a few years, you should budget between $75-$200 for this purchase. If you are looking for a higher-quality chair that comes with all the bells and whistles, consider both the big-name players and the smaller, premium brands selling directly to consumers. You can find beautiful office chairs from the large industry retailers for upwards of $1,500, or you can find the best value chairs from smaller brands that bundle affordable prices and premium quality into a single option. Our own collection of office chairs strike this exact balance and are priced between $199 and $350. Branch Ergonomic Chair: A Comprehensive Review and Guide.
Ergonomics
Ergonomics, the art of designing workplaces and products to suit their users, plays a pivotal role in the effectiveness of chairs like the Branch Daily Chair. This ergonomic emphasis is particularly evident when comparing the Branch task chair with other ergonomic models, showcasing its superiority in design and comfort.
It can be tempting to purchase a chair based solely on price and looks, without digging into the details on just how well the chair functions to keep your body in good form. While a minimalist wooden design with no armrests might look nice in an Instagram post, you'll probably regret that purchase within a few minutes of struggling to sit comfortably.
You can learn more about ergonomics here, but some key buzzwords to look for are "points of adjustment", "lumbar Support", and "tilt lock." Features such as these will help you sit for long periods of time without pain or Health issues stemming from poor posture.
Design
It's hard enough to find a Comfortable chair that you can afford, let alone one that has a sleek and timeless look. Hitting on all three of these points can be difficult; it might even leave you wanting to give up on the search altogether.
But before throwing in the towel, it's helpful to spend just a little time considering which aesthetic features are nice-to-haves and which are essential to your selection. For instance, do you prefer mesh, leather, or an upholstered look? Wooden legs, or a more modern, metallic base? Consider color, as well—options like the Branch Elevate Chair offer three seat colors, while the Ergonomic Chair offers multiple frame and seat combinations.
Lastly, always pay attention to the quality of materials—look for details like "double-layered mesh" and "high-density foam," and whether the chair's base is made of aluminum instead of plastic.
Features
The Branch Daily Chair stands out with its light lumbar Support, medium-firm seat cushion, and nylon-mesh back. These features promote better posture and provide a Comfortable seating experience. However, other ergonomic chairs may offer additional features such as Adjustable armrests and headrests.
Durability
The Branch Daily Chair is built to last, with the ability to handle up to 225 pounds. Users have reported that the chair remains sturdy and Comfortable even after months of use. It's important to consider the durability of any chair you purchase, as it directly impacts its lifespan and value for money.
Aesthetics
With its sleek and modern design, the Branch Daily Chair is a stylish addition to any workspace. However, aesthetics are subjective, and what one person finds attractive, another might not. Therefore, it's important to choose a chair that fits your personal Style and the decor of your workspace.
User Reviews
The Branch Daily Chair has received a wide range of reviews from users, many of which have been overwhelmingly positive. Here are a few examples:
Anonymous, United States: "I recommend this product. COMFORT!! Purchased 4 chairs for all office staff. Definitely worth it! They all love how Comfortable and Adjustable they are."
Larkin D., United States: "I recommend this product. Best Office Chair I've Ever Had. I absolutely love my Branch office chair! It is very Comfortable, the perfect size for my space, not to mention beautiful! Love the neck rest I purchased as an add-on too."
Anonymous, United States: "I recommend this product. good-quality, stylish, supportive chair. I purchased the Branch ergonomic chair in sand and like it a lot. It's extremely stylish and supportive. The seat cushion could possibly be more cushiony, and the mesh could possibly be more flexible. This doesn't occur to me on a regular basis, though, and I genuinely look forward to sitting in it."
Kim B., United States: "I recommend this product. After 6 months, great. I waited six months to write my review to see how the chair actually felt long term. It's been excellent and still feels really good. I had upper back pain in my last cheap chair, and this chair makes it easy to sit properly. It also looks great."
Anonymous, United States: "I recommend this product. Awesome lumbar Support. This chair is a massive improvement on my previous 30-year-old county government office chair. It holds position and has great lumbar Support, so I can actually sit up straight. Awesome value for the price."
These reviews highlight the chair's comfort, adjustability, and stylish design. However, as with any product, it's important to read a range of reviews to get a balanced view of the chair's pros and cons.
The Benefits of the Branch Daily Chair
The Branch Daily Chair offers several benefits that make it a worthy contender in the world of ergonomic chairs.
Ergonomic Design: The chair's design promotes good posture and reduces the risk of back pain and other musculoskeletal disorders.
Easy Assembly: The chair comes with an easy-to-understand assembly guide, allowing you to put it together in under an hour.
Affordability: While not the cheapest option, the Branch Daily Chair offers good value for money, balancing quality features with a reasonable price point.
Many users have reported experiencing improvements in their posture and a reduction in back pain after using the Branch Daily Chair. These testimonials highlight the chair's effectiveness in providing comfort and Support.
The Drawbacks of the Branch Daily Chair
While the Branch Daily Chair has many benefits, it's also important to consider potential drawbacks.
One potential drawback is the chair's price point. While many users find the chair's price reasonable for its features and benefits, it may be out of budget for some. However, it's important to remember that investing in a good ergonomic chair can save you from potential Health issues and related costs in the future.
Another potential concern could be the lack of certain features that other ergonomic chairs offer, such as Adjustable armrests and headrests. If these features are important to you, you might want to consider other options.
Types of Chairs to Consider
Ergonomic Chair
As the name implies, ergonomic chairs are known for their wellness-focused design that promotes good posture. In fact, over time, most have become "optimized specifically for the prevention of disorders like cervical spondylosis, back pain, poor posture, and poor blood circulation." These chairs were invented by William Stumpf in 1976 and are, in essence, the ultimate option for folks spending long hours and working days sitting in one place, or for those suffering from severe neck or back pain.
They typically come equipped with multiple points of adjustment to enable enough customization so that the chair can morph to meet the demands of your own body and sitting position. Features such as the height and depth of the seat and armrests, lumbar Support, and tilt lock are some of the staple elements you can expect to see. Quality ergonomic chairs that even include nylon mesh backs and aluminum bases can be found starting at $279, though they can range upwards in price to $1,500+.
Task Chair
Task chairs are a great option for anyone looking to boost their Productivity without breaking the bank. According to officeinteriors.ca, task chairs derive from the operator-Style chairs used by stenographers because of their straightforward yet practical design. You can save some money by purchasing an armless task chair, though we'd recommend opting for one with armrests to avoid shoulder pain from sagging elbows.
It's important to note that while they may not offer as many points of adjustment as an ergonomic chair, a task chair worth the money should still have a good ergonomic design that will encourage you to sit properly. Make sure to look through the reviews of task chairs that claim to be ergonomic, and read through the product descriptions to see what features they come equipped with. If you're a college student, recent grad, or even someone purchasing chairs for a co-working space, this is a great option. Task chairs are versatile, easy to assemble, and budget-friendly, and you can typically find a high-performing option for less than $200.
Conference Chair
If you're furnishing an office and want to foster a collaborative environment, or if you're just someone who wants a clean, no-fuss chair for their desk at home, then conference chairs are an excellent choice. Unlike ergonomic or task chairs, this seating option promotes a leaning-forward posture through its lower backrest and titled seating. A good conference chair should swivel and have an Adjustable height so that anyone feels Comfortable joining in on meetings.
Conference chairs tend to be available in a variety of materials, including foam, mesh, leather, or upholstery. But while leather or upholstery offer a sophisticated look, mesh may prove more breathable and low maintenance; even if you're located in a hot climate, a leather chair on a hot summer day is a recipe for discomfort. While conference chairs come in a wide range of prices, you should never have to spend upwards of $400 for a quality selection.
Drafting Chair
Typically geared toward artists and designers, drafting chairs are designed to be used in conjunction with drafting tables. As a result, they're taller than other office chairs and feature a foot ring so you can switch seamlessly from standing to sitting. They also don't always have armrests or even a back, so don't be alarmed when you're browsing through options.
If you often stand at work, be it at a standing desk or drafting table, a drafting chair could be a good fit for you. However, keep in mind that many office chairs can substitute for a drafting chair—some people even opt for a bistro chair instead.
Executive Chair
If you want an office chair with a stylish, fancy, or, some might say, imposing aesthetic, then an executive chair is for you. Usually leather or upholstered, these premium chairs are geared towards, as the name implies, executives, or at least anyone who wants to sit like a boss. Some joke that executive chairs are the thrones of the modern office. They tend to have high backs, lots of cushioning, premium materials, and a higher price point, with some costing over $2,000. If you're looking to treat yourself but still want a sleek design at a not-so-staggering price, check out the Elevate chair.
Conclusion
Selecting the appropriate ergonomic chair, such as the Branch Daily Chair, is a vital decision impacting your daily comfort and long-term Health. This detailed review aims to guide you in understanding if Branch furniture is a good fit for your needs, offering a comparison with other ergonomic chairs to inform your choice. The Branch Daily Chair, with its ergonomic design, easy assembly, and stylish aesthetics, offers a unique blend of comfort and functionality.
While it may not be the cheapest option, many users find that its benefits justify its price point. However, as with any purchase, it's important to consider your specific needs, preferences, and budget.
In conclusion, the Branch Daily Chair is a worthy contender in the world of ergonomic chairs. Its unique blend of comfort, Support, and Style makes it a popular choice among professionals. However, it's always important to do your research and consider all your options before making a purchase. Whether you're setting up a home office or looking to upgrade your workplace seating, the Branch Daily Chair is a choice worth considering. Remember, the best chair for you is one that fits your body, meets your needs, and helps you work comfortably and efficiently.