In the contemporary workspace, comfort and Productivity go hand in hand, and the choice of an office chair is pivotal in this equation. High-back ergonomic office chairs are not only sought after for their visual appeal but also for their role in fostering a healthier work environment. In this comprehensive guide, we delve into five of the best High-back ergonomic office chairs that promise to elevate your workspace experience by marrying Style with Health-centric Features.
Importance of High Back Ergonomic Office Chairs
The interplay between humans and the objects they use is at the heart of ergonomics—the science dedicated to crafting an efficient and safe working environment. For those who spend hours at a desk, the impact of a well-designed office chair is undeniable. High-back ergonomic office chairs are champions of this cause, offering unparalleled Support for the back, neck, and shoulders, which in turn fosters proper posture and mitigates the risk of musculoskeletal issues.
Top 5 High Back Ergonomic Office Chairs
Best for Lumbar Support – HON Ignition 2.0 Ergonomic Office Chair
When it comes to blending form, function, and comfort, the HON Ignition 2.0 Ergonomic Office Chair is an unrivaled contender. Its sleek design and robust construction make it an ideal choice for any discerning professional seeking both Style and substance. The chair's backrest soars to an optimal height for extended work sessions, ensuring that your posture remains pristine with its exceptional lumbar Support.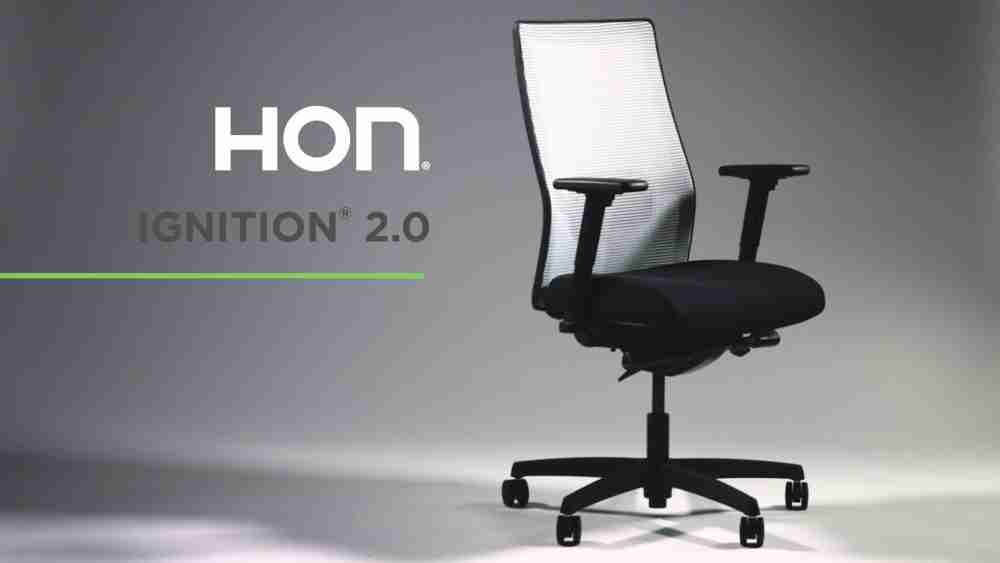 The mesh back with synchro-tilt recline intuitively adjusts as you lean back, maintaining a correct posture that keeps your eyes level with your monitor even in full recline—a feature that sets it apart as perhaps the best ergonomic high back office chair for those long hours at the desk.
Moreover, the HON Ignition 2.0 takes user-friendliness to the next level with its weight-sensitive recline function—nullifying the need for constant adjustments. Simply lean into your desired position and trust the chair to Support you firmly, making it a top-rated high back office chair by both users and experts alike.
Its modern aesthetics are not just for show; equipped with smooth-rolling swivel wheels, this chair promises effortless maneuverability, making it a versatile addition to any high-design workspace.
Potential Downsides
However, excellence often comes at a price. The HON Ignition 2.0, being one of the best high back ergonomic office chairs available, may strain tighter budgets. Additionally, it requires assembly upon delivery—a minor inconvenience for the quality and comfort promised.
Pros:
Unmatched lumbar Support for prolonged work sessions.
Maintains eye level across all reclining positions.
Swivel wheels for superior mobility.
Cons:
Premium pricing may not suit all budgets.
Assembly required upon delivery.
Best for Versatility – NEO CHAIR Office Chair Computer Desk Chair Gaming
The NEO CHAIR Office Chair is a master of adaptation, designed to excel in both the professional sphere and the gaming arena. It mirrors the versatility of the Ergohuman Mesh with Headrest but stands out with its plush high back cushion that provides robust lumbar Support. Wrapped in premium black leather, it introduces an element of opulence to your workspace.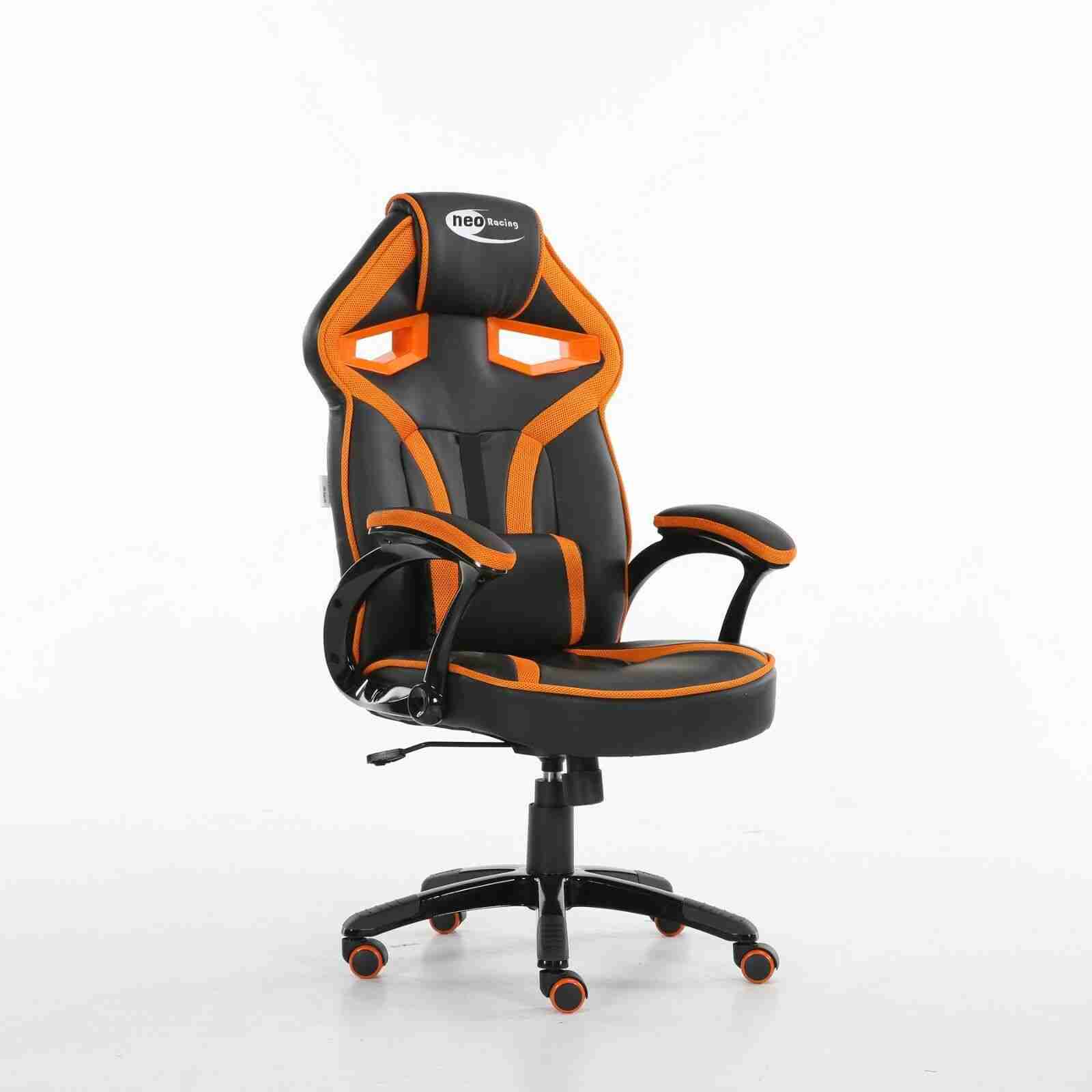 The chair's unique design does more than catch the eye; it supports the natural curvature of your spine. Adjustable settings ensure a tailor-made seating experience, while its swivel rolling wheels grant you the freedom to glide across your office space with ease. This chair marks its place as a top choice for those seeking a high back leather office chair without the steep price tag, offering a suite of adjustments usually found in more expensive models.
Potential Downsides
Luxury, however, can have its trade-offs. The leather upholstery, while sumptuous, may not offer the breathability of mesh options, potentially leading to discomfort over extended periods of use. Moreover, those who favor a softer seating experience might find this chair's firm Support a tad stringent for their taste.
Pros:
Multi-use design ideal for both work and play.
Superior lumbar cushioning for lasting comfort.
Luxurious black leather upholstery.
Cons:
Leather may retain heat, affecting comfort over time.
The seat firmness might not appeal to everyone.
Best for Elegance – DEVAISE Computer Office Chair
For those with an eye for sophistication, the DEVAISE Computer Office Chair is a symbol of elegance. It rivals the plush comfort of the Global Arturo but distinguishes itself with executive suede fabric that can transform any office setting. With its Adjustable flip-up armrests and a generously padded headrest, this chair offers a seating experience that is as Comfortable as it is stylish.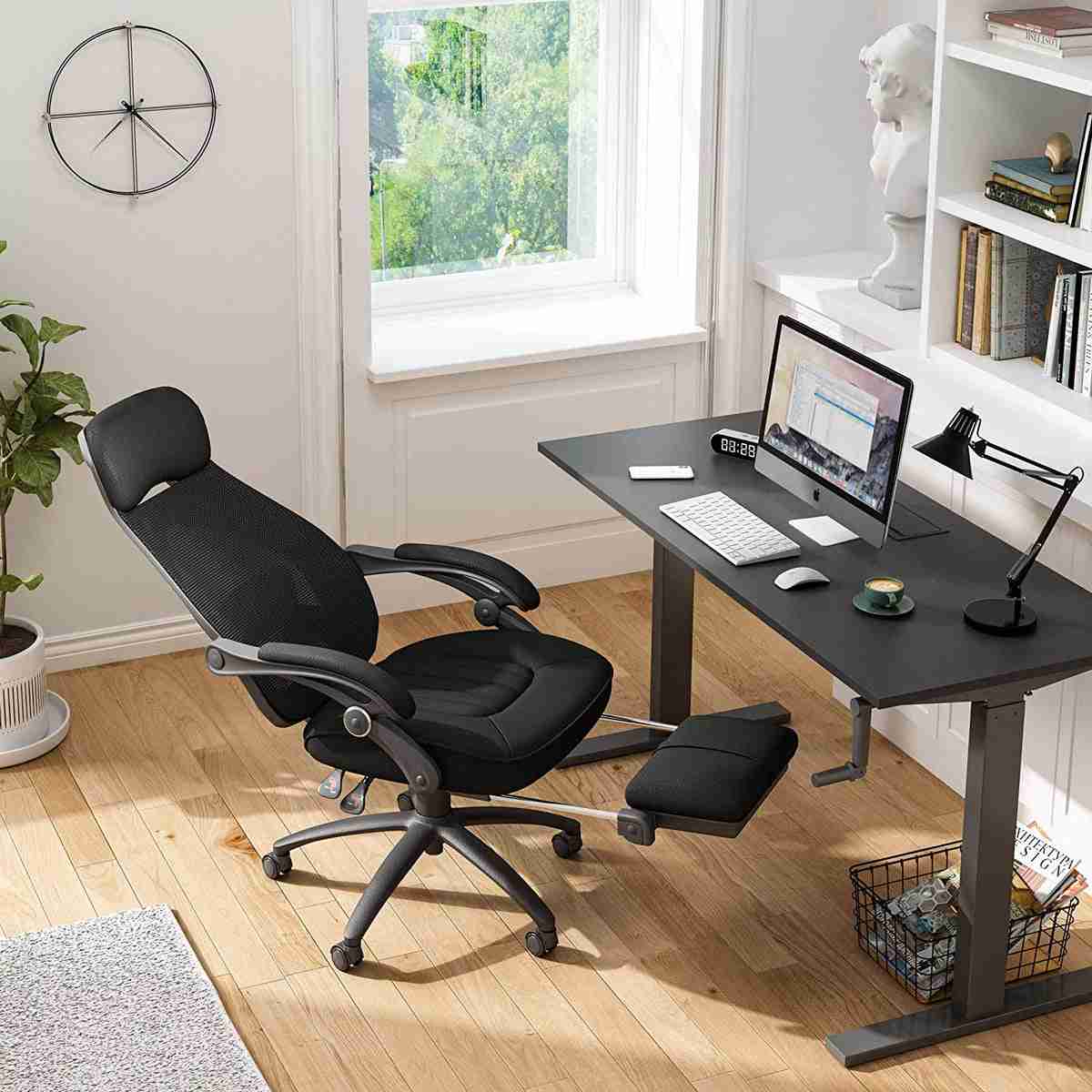 The chair's design prioritizes ergonomic Support without compromising on aesthetics. Its suede fabric not only enhances the visual appeal but also provides a tactile experience that adds to the overall sense of luxury. Whether it's about making a statement or enjoying elevated comfort levels, the DEVAISE chair delivers on all fronts.
Potential Downsides
Suede is a delicate material that demands careful maintenance to preserve its elegant appearance. Additionally, some users may find the armrests positioned higher than preferred, which could impact comfort during long work sessions.
Pros:
Flip-up armrests for versatile comfort.
Suede fabric for an upscale look.
Ergonomic design that doesn't sacrifice Style.
Cons:
Suede requires careful maintenance.
Armrests may be too high for some users.
Best for Style – ZUNMOS Home Office Executive High Back Ergonomic Desk Chair
The ZUNMOS Home Office Executive High Back Ergonomic Desk Chair is where functionality meets fashion. Echoing the Via Oslo's commanding presence, this chair steps up with its faux leather finish and rolling swivel functionality. It's tailored for those who desire a chair that stands out in the office without skimping on ergonomic benefits.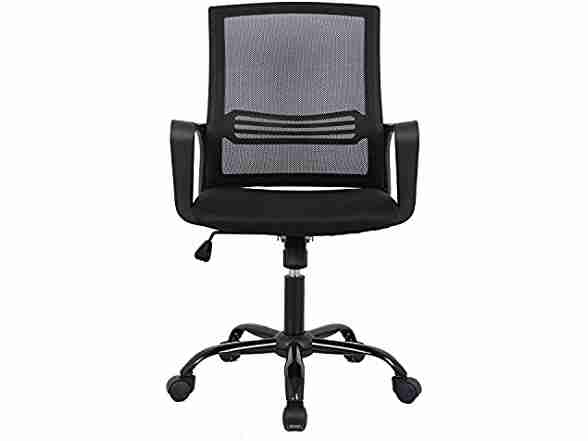 This chair is not just about making an impression; it's also about supporting your posture throughout the day. The Adjustable lumbar Support ensures your back's natural alignment is maintained, while the faux leather offers a sleek and modern touch to your personal or professional space.
Potential Downsides
Faux leather, while chic, may not endure as well as genuine leather over time. Also, its substantial size might pose a challenge for smaller office areas, making it less suitable for those with limited space.
Pros:
Aesthetic design for modern office spaces.
Customizable lumbar Support for all-day comfort.
Swivel design enhances mobility.
Cons:
Faux leather may lack long-term durability.
Size may be too imposing for compact spaces.
Best for Ergonomics – Dripex Ergonomic Office Chair
The Dripex Ergonomic Office Chair epitomizes ergonomic innovation. It takes cues from the Global Obusforme's design but sets itself apart with Adjustable Features like a headrest and armrests, coupled with a reclining function that caters to your comfort needs throughout the workday.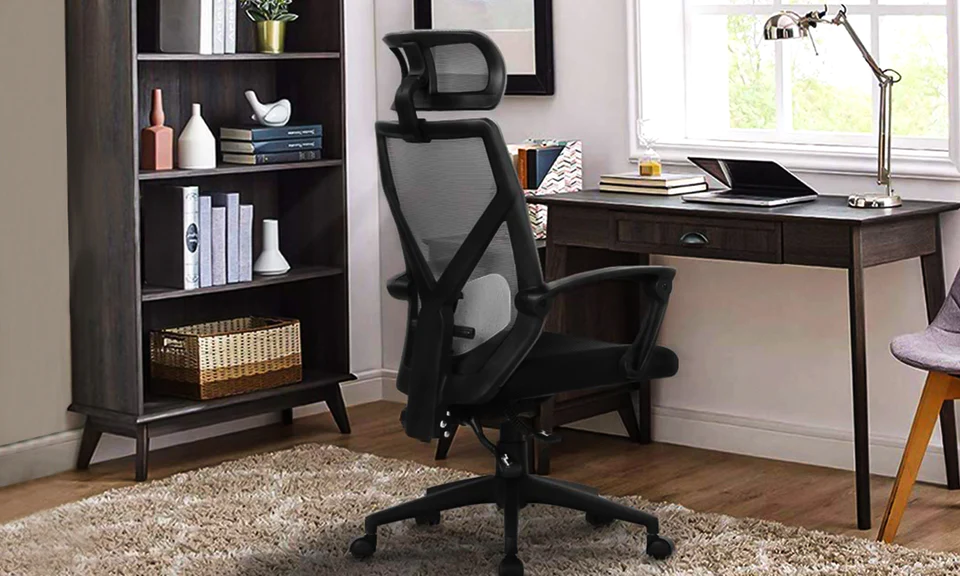 This chair is designed to be a bastion of Support; it provides targeted lumbar backing and a headrest that adapts to your body, ensuring your posture remains optimal. The recline feature invites moments of relaxation between tasks, while the rolling swivel design adds practicality, making this chair a top contender for those in search of an ergonomic high back office chair that doesn't compromise on functionality.
Potential Downsides
While the mesh back promotes breathability, some users may miss the plushness of cushioned seats. The armrest height could also be a point of contention for individuals seeking arm Support that aligns perfectly with their desk setup.
Pros:
Advanced ergonomics with Adjustable Features.
Reclining function for tailored comfort.
Breathable mesh design for prolonged use.
Cons:
Mesh may not provide the cushioned comfort some prefer.
Armrest height might not suit everyone's needs.
What is a High Back Chair?
In the realm of office furniture, the term "high back chair" doesn't have a fixed definition. Sometimes, it refers to a chair tall enough to Support your head. Other times, it simply means the chair has a taller back than another version of the same model.
There are two main types of high back chairs. The first type typically maxes out around 24" from the seat, designed to Support your mid and upper back, but not your head or neck. Some models in this category offer a headrest option, extending their height to as much as 32".
The second type of High-back chair Features a backrest that ranges between 28″ and 32″. These chairs are designed to Support your entire back, including your neck and head.
How Did We Pick Our Best High Back Chairs?
To make this list, the first requirement was that the chair's backrest had to be at least 30" tall, measured from the seat. This height ensures that all the chairs on this list will be tall enough to Support your back and head.
Two factors influenced the final selection process for this list. The first was our experience selling high back chairs. With over a decade of experience, we have a wealth of information on which chairs customers prefer and find successful.
The second factor was our personal experience using high back chairs. Having sat in so many chairs over the years has given us a wealth of knowledge. We know what to look for and which chairs are designed to perform better than others.
4 Things You Must Consider Before Buying a High Back Chair
Back height: The first thing to consider is how high you want the backrest to be. As we've discussed, not all high back chairs are the same. If you're looking for a high back option to Support your entire back, along with your neck and head, then this list will be helpful for you because each of these chairs meets that criteria.
How you are using the chair: The high back chair that you choose will depend on what you plan on doing with it. If you're looking for a conference chair, then you need to consider things like overall chair width so that you know how many chairs can fit around your table. If you're looking for an ergonomic high back chair, then you'll need to make sure it has all of the adjustments you require.
Neck and head Support: High back chairs are designed with different kinds of headrests. Some have soft pillow-like pads for your head to rest on, while others have a specific headrest that goes in the curve of your neck. Some high back chairs don't have a specific headrest at all.
Upholstery choices: There are four main types of upholstery: fabric, leather, mesh, and fake leather. Each has its own pros and cons, and the choice will depend on your personal preferences and needs.
Bottom Line
There are a lot of different high back chair options currently available. Knowing how to start your search will make the decision-making process much easier. Being able to identify what your specific needs are is crucial so that you can start to narrow your search and hone in on the exact type of high back chair that you want.
This list contains a range of high back chairs that can serve many different applications with different styles and prices, but there may not be an option that fits your needs. That is ok. This list can still be helpful for you to see what is available and how to go about your search. At the end of the day, we want you to find the best high back chair for your situation, and we hope this list helps you do just that.
Conclusion
Choosing the right high back ergonomic office chair can significantly improve your comfort and Productivity at work. The top 5 chairs listed in this article offer a range of Features and designs to suit different needs and preferences. Remember, the best chair for you is one that fits your body, suits your work Style, and fits within your budget. So, take your time to explore these options and choose the one that's right for you.
Remember, comfort is not a luxury; it's a necessity. So, invest in a good high back ergonomic office chair and transform your work experience!