In the realm of professional life, prolonged periods of sitting are often an inescapable reality. This sedentary Lifestyle can lead to discomfort, manifesting as back and neck pain. Lower back pain, in particular, can become a persistent issue, impacting not only your wellness but also your Productivity. While there are myriad causes for such discomfort, your office chair often plays a significant role. Fortunately, there exists a healthier alternative to traditional seating: the ergonomic office chair. This investment can revolutionize your posture and overall Health.
In this article, we will explore four exceptional ergonomic office chairs, each designed to alleviate or prevent upper and lower back pain. It's time to discover your ideal office chair and, hopefully, bid farewell to back pain.
1. The Ergonomic Chair Pro
The Ergonomic Chair Pro is a marvel of ergonomic design. Conceived in Italy, this chair combines minimalist aesthetics with a double-layered mesh back, offering both visual appeal and functionality. It has garnered numerous accolades, including the title of "Best Office Chair" from reputable sources such as Wired and New York Magazine, and has received over 3,000 five-star reviews from satisfied customers.
This chair offers eight adjustment points, allowing you to find your most Comfortable position. You can set your optimal tilt and tilt tension, and choose your preferred seat depth. The lumbar rest is removable, allowing you to experiment with and without it. The 3D armrests offer height adjustment, forward and backward movement, and rotation on their axis.
Who is best suited for the Ergonomic Chair Pro?
If you work for eight or more hours a day and appreciate assistance with your posture, this model will likely appeal to you. The firm lumbar Support and contoured upper backrest aid in maintaining good posture. It also boasts the most adjustments of any of our chair models; it accommodates body types up to 300 pounds and fits heights ranging from 5'2" to 6'2".
The Ergonomic Chair allows you to work comfortably and boost your Productivity, even during long hours of intense tasks. If you favor multiple chair adjustment options and sit for long periods, this is your perfect match.
2. The Management Office Chair
Designed in California, the Management Office Chair leaves you feeling energized, even after prolonged periods of sitting. It features a soft 3D knit material (similar to Nike's FlyKnit material) and has a V-shaped suspended back. From the moment you sit, you'll find that it seems to conform to your body.
Its wide lower back provides extra Support, and the Adjustable lumbar rest is padded for optimal comfort. Long hours? No problem.
You'll enjoy feeling less fatigued, with less slouch after a long day, thanks to a design that works with your body, enabling the spine to keep its natural S-curve.
Who is best suited for the Management Office Chair?
The Management Office Chair is the ideal option for those who prefer a more residential- and design-friendly option compared to other task chairs on the market. Its "dipped-in" monochromatic look makes it a sight that's easy on the eyes in any home environment.
It also accommodates body frames ranging from 5'0" to 6'2" and supports up to 300 pounds. Its design is matched by its incredible ergonomic performance, which makes it the obvious choice for many WFH warriors.
3. The Task Chair
The Task Chair boasts a sleek, simple design. When you need to focus on the taskat hand in comfort and crave simplicity, consider this attractive option.
It delivers on the details, such as five adjustments so you can customize your seat, and despite its simple design, the Task Chair has unique attributes that truly stand out. For starters, the chair's seat cushion is made from high-density foam, allowing for even weight distribution. And, with an Adjustable lumbar pad that delivers plenty of cushioned Support for your mid-back, this ergonomic chair is up for anything your day calls for.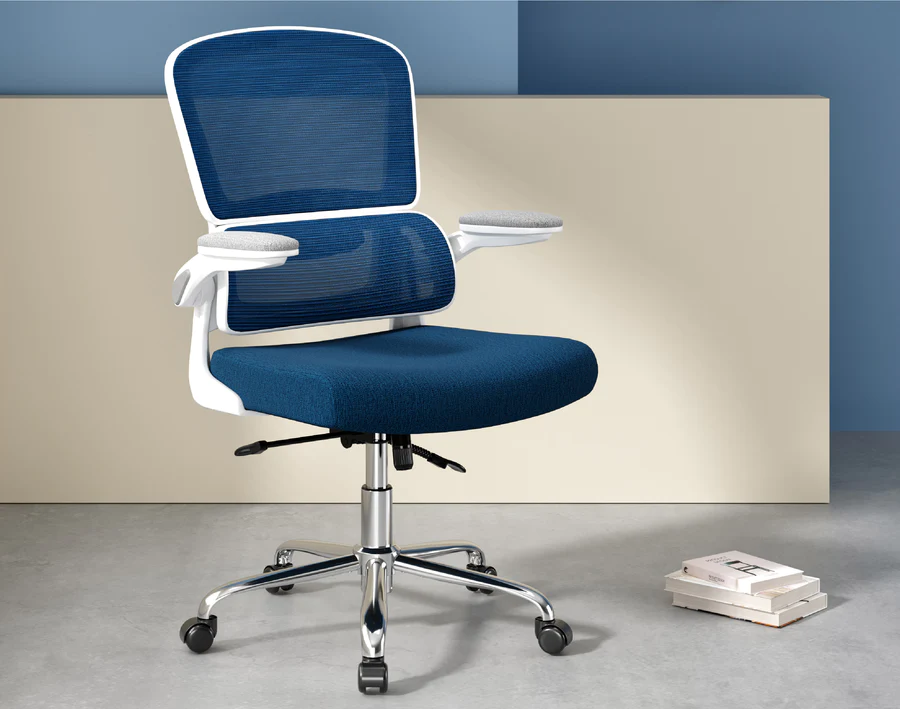 Other details we adore are the High-back design featuring a double-woven nylon mesh seat back. The nylon at the Top of the chair makes the chair back extra breathable and ideal for anyone who experiences occasional back pain.
Who is best suited for the Task chair?
The Task Chair accommodates heights ranging from 5'4" to 6'3" and is an affordable option that provides both great back Support and customization.
For a simple ergonomic seating design that's comfy with premium features in an affordable price range, choose the Task Chair.
4. The Daily Chair
The Daily Chair is an economical, environmentally-friendly, ergonomic chair that leads the market for the best value. If you're looking for an ergonomic design but budget is Top-of-mind, you can't go wrong with our Daily Chair.
It comes from 70% recycled materials, and is made of components that are 96% recycled after use.
The contoured chair back, made of breathable nylon, offers Adjustable tilt and tension, and feels natural and intuitive with how your body moves. The lumbar Support is light, just enough for you to maintain good posture, and its height and armrest adjustments enable you to set your perfect sitting preferences.
Who is best suited for the Daily Chair?
The Daily Chair accommodates heights ranging from 5'0" to 5′ 11" and provides a medium-firm cushion designed to deliver comfort for those sitting for four to six hours. The chair supports weights up to 275 pounds.
The Daily Chair is for you if you're looking for an ergonomic chair with the best value that doesn't compromise quality. It's a smart option that's easy on your wallet — and the planet.
What To Look for in an Ergonomic Desk Chair
There are decent office chairs, and then there are great office chairs, but how do you know the difference?
Let's break down the most important features of an ergonomic desk chair:
Adjustable Height and Adjustable Armrests Adjustable seat height and armrests are critical for resting in an ideal sitting position. Armrests and an Adjustable headrest should place your body in a relaxed upright position. The wrists should center comfortably on the same level as the desk or slightly below the elbows. Correct chair height should position feet flat on the floor or on a footrest if you choose.
Lower Back Support or Adjustable Lumbar Support Built-in lumbar Support is a key component to back Health, yet one study of at-home workers reflected 73% of home office chairs lacked lumbar Support. Your body type, how much back Support you require, and your preferences all play a role in the amount of lumbar Support you need. This is why we offer various options for lumbar Support in our chair models.
If you're unsure about your back Support needs, consider a chair model that offers customizable lumbar Support.
Here's a summary of the lumbar Support for our various chair options:
Recline Functionality Tilt and tension settings allow you to recline in your chair while maintaining your body's natural position and curvature of your spine. Ergonomic chairs are designed with this in mind because nobody expects you stay in the same position all day long. So, when you do switch up your position, you'll feel confident (and Comfortable) that you're being supported.
Breathable Mesh Chair Components Breathable mesh components provide ventilation to keep you cool and relaxed in your chair — a great feature if you live in an area with high temperatures (or if you simply are at your desk for hours at a time).
The Best Office Chairs for Your Home Office Space
Thoughtfully outfitting your home office with an ergonomic desk chair is an investment in your Health and Productivity, and considering how much time you spend sitting, it could be the single most important decision you can make for your home office workspace. If you're still not quite sure which ergonomic office chair is right for you, take our Build Your Office quiz!